April 1, 2010
Advent Won't Stop Jack: TELARC -- Far Away from Advent Record Company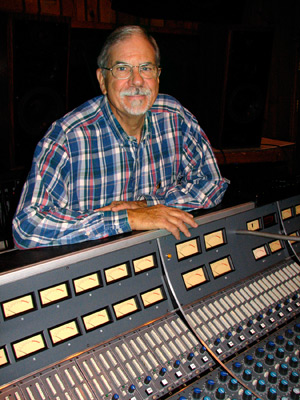 Who is Jack Renner?
Jack Renner received a Bachelor of Science Degree and completed graduate studies at the Ohio State University School of Music where he was named an Outstanding Alumnus in 1990. He is the retired chairman, CEO, and chief recording engineer of TELARC Records. Active as a recording engineering consultant, free-lance recording engineer, educator, and public speaker, Renner has received 23 Grammy nominations and won 11 Grammy Awards for recording engineering in both classical and jazz.
His eight Grammys for Best Engineered Recording -- Classical are the most received by one individual in that category in the history of the Grammys. He is an internationally recognized exponent and practitioner of minimal microphone technique and a pioneer in using the digital recording process to commercially record jazz and classical/symphonic music.
He engineered the first commercial U.S. symphonic digital recording, Frederick Fennell's Cleveland Symphonic Winds, in April, 1978; the first U.S. orchestral digital recording, Robert Shaw/Atlanta Symphony Orchestra Chorus's Firebird and Polovtsian Dances, in June, 1978; and the first digital recording anywhere of an internationally recognized world-class orchestra, Lorin Maazel and the Cleveland Orchestra, Pictures At An Exhibition, in October, 1978.
Renner is a former music educator and professional trumpet player. He has worked with a virtual who's who of the classical and jazz world. Appointed to the faculty of the Cleveland Institute of Music in 1986 as an Adjunct Professor of Recording Engineering, he was awarded an honorary Doctor of Musical Arts by that institution in 1997. He is also active as a teacher of recording engineering at the Aspen (Colorado) Music Festival and School where he is co-chair of the Edwin Stanton Audio Recording Institute as well as serving as consultant to the recording engineering staff.
In 2004, the American Bandmasters Association awarded Renner the Edwin Franko Goldman Citation for his long-time work in the promotion and encouragement of concert band music in America, and in 2007, Mix named him as one of the 30 people who shaped sound in the previous 30 years.
Renner lives in Portsmouth, Rhode Island with his wife Barbara, a highly respected concert piano tuner/technician.
* The above excerpt was taken directly from Jack Renner's biography, supplied by the man himself.
In 1970, Jack Renner founded Advent Record Company, producing classical offerings for professional musicians. Robert Woods joined one year later as part-time tape editor. Unfortunately for the duo, by 1976, Jack and Robert found themselves facing a lawsuit from the Sprague Corporation who had recently purchased the loudspeaker company Advent Corporation. In the lawsuit, the semiconductor giant mandated that Jack "get rid of the name Advent Record Company, or else." Ultimately, the fledgling record label was dissolved for encroaching on the legal rights of Advent Corporation.
Sipping rum and Coca-Cola on my porch on Sunday February 26, 1984, Renner told me the fascinating story of his foray into the recording business. "Bob and I decided to form a new corporation with a name far removed from Advent Record Company. I was designated chairman, CEO and chief recording engineer. Bob would be president and producer. After some brainstorming we decided that the Latin word Tel meant far away from; ARC abbreviated Advent Record Company."
And so TELARC International Corporation was born. The new Renner/Woods synergistic partnership bloomed for 29 years and actually outlasted the Advent Corporation. In its history, TELARC copped over 50 Grammy Awards, mainly in the Classical fields, and garnered much praise. In the words of Wilma Salisbury in the Cleveland Arts Prize:
Jack Renner and Robert Woods dared to aim high, think big and take risks. In 1977, they had the audacity -- and the funding -- to hire the Cleveland Orchestra and music director Lorin Maazel to launch their company, TELARC Records. Their debut album, Direct from Cleveland, was the first modern-day direct-to-disc long-play recording of a symphonic ensemble, and it put the small company on the audiophile map.
Jack, TELARC and Sanch
I first met Jack on the final day of winter CES, January 1984. Engineer and audiophile, Peter Beckles, had persuaded me to seek assistance for recording Steelpan music, and we were impressed by TELARC's work with the modified Soundstream digital recorder. In hopes of getting his help, I presented Jack with a classical long-playing record by Desperadoes Steel Orchestra to give him an idea of the instrument's capability.
Upon this first meeting, I found Jack's demeanor intimidating and our first encounter fell short of my expectations. Frankly, despite his promise to send a proposal, I did not expect to hear from him. However, Jack later contacted me in a letter and confessed to having been totally exhausted at CES.
A previous article briefly mentioned Renner's visit to Trinidad where he and I worked for a week on steel band recordings. Although no formal business arrangements transpired for producing these recordings, Jack and I became lifelong friends, and the company Sanch has remained a faithful international distributor for TELARC ever since.
The house that Jack built
Jack believes in the principle that less is more. He prefers recording direct-to-two-track in natural environments such as concert halls, churches and nightclubs. His favorite microphones are Brüel & Kjaer (DPA), vintage Neumann (tubes), Schoepps and Sennheiser. Jack's philosophy is to use omnidirectional pickups for mapping a soundstage, supplemented by cardioids for accentuation and precision imaging, where necessary.
For microphone preamplifiers, Jack inevitably gravitates to Millenia, believing these to be the most neutral sounding. Renner swears by his heavily modified Neotek mixing console, internally rewired with Monster or MIT cables. He uses customized equipment with an extended frequency response and a low noise floor. And Jack insists that the signal path from a microphone feed should be uncomplicated, utilizing the best available components.
Jack has worked with any number of classical acts, including the Atlanta Symphony Orchestra Chorus with Robert Shaw, Yolanda Kondonassis, David Russell, Martin Pearlman, Cleveland Quartet, Cleveland Orchestra, Empire Brass, Cincinnati Pops, London Symphony Orchestra, Sir Charles Mackerras, Lorin Maazel, Seigi Ozawa, Michael Murray, Prague Chamber Orchestra, Berlin Philharmonic, Vienna Philharmonic, Rudolf Serkin, and the Boston Baroque.
On the Jazz side, his curriculum vitae is even more formidable. During his tenure at TELARC, Jack recorded such legends as Oscar Peterson, Joe Williams, the Count Basie Orchestra, Dave Brubeck, Ahmad Jamal, Dizzy Gillespie, Jeanie Bryson, Mel Torme, Gerry Mulligan, Ray Brown, Lionel Hampton, Monty Alexander, Michel Camilo, McCoy Tyner, Joe Pass, Louie Belson, George Shearing and Andre Previn.
The jackhammer
I could not possibly write Jack's celebrity piece without revisiting pieces of his work. More than 90 percent of the CDs that Renner has engineered and most of the direct-to-disc vinyl reside in my library. Unfortunately, space constraints for this article have restricted me to reviewing four recordings from his vast repertoire. There was no logical selection criteria for the recordings I chose apart from listening pleasure and creative inspiration.
Jazz pianist Ahmad Jamal produced two albums with TELARC. I selected Chicago Revisited: Live at Joe Segal's Jazz Showcase (CD-83327), recorded on November 13 and 14, 1992. The sidemen are John Heard on acoustic bass and Yoron Israel on drums.
Apart from the fact that Jamal's playing always leaves me wanting for more, re-auditioning this disc allowed me to listen to Israel's drumming again. He played for one of my concerts, Reid Wright and be Happy, in St. Vincent in 2003, and I thoroughly enjoyed his distinctly creative approach to his craft on that occasion.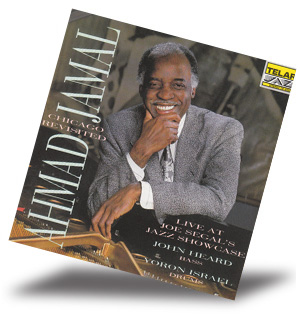 Listening to Chicago Revisited, I imagined myself in the front seat of the pub in the Blackstone Hotel on Michigan Avenue where the album was recorded. From the opening bars of "All the Things You Are" to the closing segment of "Lullaby of Birdland," the small audience is discernible from sparse applause, but the recording is as palpable, lush, captivating and transparent as any that I have ever heard.
With eyes closed, I tried to establish Jack's microphone (DPA type 4011) placement for Jamal's piano. I detected that most of the treble register of the instrument emanated from the left channel. With a piano located at center stage, microphones are usually positioned for the soundstage to span the entire width of one's listening space. The bass register occupies house left, the treble house right.
However, Renner reversed polarity on the recording to reveal an entirely different perspective. Listening to other live piano recordings by Renner, I discovered similar results. In talking with me, Jack explained his reasoning for recording in this manner: "I mike a piano from the listener perspective, which is to say, with the treble on the left and bass on the right."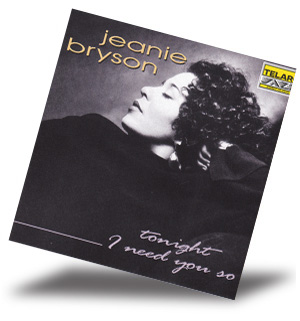 Jeanie Bryson, daughter of pouch-cheeked trumpeter, Dizzy Gillespie, recorded three albums with TELARC. The one that fascinates me most is Tonight I Need You So (CD-83334), which was recorded at Studio A, Power Station New York, January 25-27 and February 18-20, 1994. On the album, Paquito D'Rivera, Christian McBride and Claudio Roditi headline a veritable who's who cast of 12 musicians teamed up with Jeanie who has been described as being neither a pop nor jazz singer, but simply a singer. I can attest to that.
This recording generates a huge, three-dimensional soundstage, reminiscent of Frank Sinatra's Duets. I got the impression of Jeanie singing with an entire band of musicians spread out behind her. Ms. Bryson's silky-smooth voice blended beautifully with the reverberant sound that emanated from the studio's walls. In all, I believe that Tonight I Need You So is one of only two perfectly arranged and sequenced albums. The other is Sheffield Labs' Lincoln Mayorga and Distinguished Colleagues' Volumes I, Volume II, Volume III.
The recent upgrades to my system definitely resulted in more subtle nuances being resolved. Amidst copious intervals of inter-transient silence, I was able to concentrate on specific instruments in the soundstage, a feat not easily accomplished when material is two-dimensional, homogeneous, and constricted.
In all, Jack expertly captured the breathtaking sound of aggregated musicians and soloists performing in a real acoustic space with Tonight I Need You So. My unequivocal favorite track on the album remains the delicate, enthralling "Two-Hump Ride." Listening to the track, I felt as though I might be able to reach out and touch Jeanie as her well-trained voice was captured by the diaphragm of Jack's Sennheiser MKH-20 microphone. Talk about realism.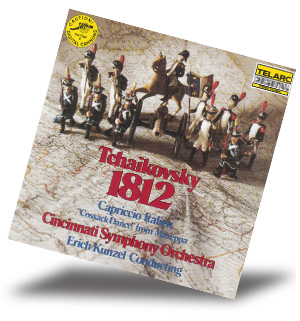 Undoubtedly, Jack Renner's most controversial recording is Tchaikovsky: 1812 Overture with Erich Kunzel conducting the Cincinnati Symphony Orchestra. It was first released on virgin vinyl in 1979. Unfortunately, I have misplaced my copy. However, the CD, TELARC CD-80441, still resides in my collection.
Jack recorded the piece in three separate segments -- orchestra, bells and cannon. According to the liner notes, "The components of this performance were mixed together using the Soundstream digital recorder and employing a specially designed computer mixing program created for the recording. This mixing program represented a revolutionary first in digital technology."
The record's modulated grooves representing the 16 cannon shots were so wide that they could easily be discerned with the naked eye. Many cartridge/tonearm combinations mis-tracked the material, conjuring images of cowboys trying in vain to tame wild broncos. When I played the album, the Ortofon MC1000 cartridge/Hadcock tonearm on my Oracle Delphi turntable became a veritable jackhammer! And a test with the Koetsu Black and David Fletcher's The Arm barely managed to make the grade, possibly because of the inertia of each. Subsequent Ortofon tests revealed that the maximum width of the grooves replicating the cannon shots was greater than the industry specified limit of 160 micrometers.
No doubt, many delicate cantilevers on expensive moving-coil cartridges were broken or became dislodged from their housing while spinning the Tchaikovsky: 1812 Overture. Numerous letters both marveling at and complaining about Renner's recording were written by audiophiles from around the world, only adding to the hullabaloo. Everyone wanted to see and hear the record for themselves. In the end, TELARC must have sold more records than initially anticipated.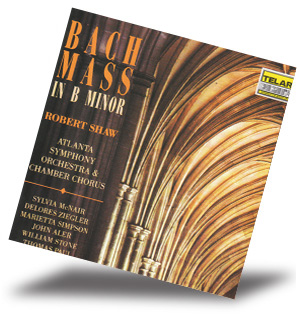 Performances of Johann Sebastian Bach's Mass in B Minor always soothe and becalm my restless spirit. I studied Latin for five years at secondary school where the Roman Catholic High Mass was recited in that language. Additionally, I am extremely fond of baroque music, with a special love for Bach, whom I consider to be the father of improvisation.
On special occasions, such as Christmas Eve, the Roman Catholic High Mass was sung somewhat like an oratorio. This contributed greatly to my unending love for Bach's composition. Faithfully to this day, I can still follow performances and sing along blissfully -- in my mind, of course!
The TELARC double CD (80233) was recorded on March 5-7, 1990 at Symphony Hall, Atlanta, Georgia. Robert Shaw conducted the Atlanta Symphony Orchestra Chorus. Jack used an array of Sennheiser and Schoeps microphones.
I compared excerpts of Renner's recording with Sir Georg Solti's (Decca 430 353-2) offering by the Chicago Symphony Chorus and Orchestra. By sheer coincidence, Stanley Goodall and Simon Eadon had recorded this version at Orchestra Hall, Chicago on 25, 26 and 28 January, 1990, six weeks prior to Renner's.
The Goodall and Eadon recording may arguably be the definitive one, but I firmly believe that the TELARC engineering is far superior. The diction of the singers is certainly clearer on the TELARC version, with a greater sense of spaciousness and air around the choir, soloists and instruments. Truly, I am drawn more intimately into the TELARC recording and find myself listening to Jack's production and not necessarily the performers.
Jack's beanstalk
In talking with Jack, he inevitably shared some candid comments regarding TELARC's fate after being subsumed into the Concord/Universal Music Group:
As to the future of TELARC, that is hard to say but I am not happy with how things have gone. On the one hand, I can understand that Concord has to minimize their costs and try to turn a profit, but on the other, it grieves me to see how present day business practices implement this.

To explain, when I left TELARC, there were 56 full-time employees; now, there are ten. Most services are hired from outside providers, in many cases former TELARC people. This is definitely the case with the production department where Mike Bishop, one other engineer and a producer formed their own company after being retrenched by Concord.

While they are getting some business from Concord, they are finding it rather difficult to keep busy full time and are spending a lot of time looking for projects outside of the Concord group. This is a sign of the times and I'm not sure where it is going. Who would have thought a few years ago that Apple would be the largest retailer of recorded music in the United States?
Jack Lee Renner eagerly anticipates celebrating his 75th birthday on April 13, 2010 with his wife, sister, three children and six grandchildren. Jack's lifelong mission has been to relentlessly pursue excellence in his chosen field. Renner knows that he will never see the tip of his beanstalk, in this world or the next, but he will never stop climbing.
. . . Simeon Louis Sandiford
simeons@soundstagenetwork.com