January 1, 2010
Systematic Upgrades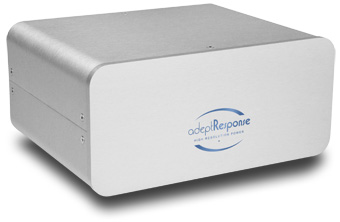 I have been planning to upgrade my reference playback system for some time. My all-black Classé CA-400 power amplifier, CP-60 preamplifier, CDT-1 transport, DAC-1 processor, and Nakamichi Dragon cassette deck had served faithfully and reliably for more than a decade. These were complemented by an Oracle Premier turntable with David Fletcher's The Arm, Koetsu Black and Ortofon Kontrapunkt cartridges, and PSB Platinum T8 loudspeakers. Interconnects and loudspeaker cables from MIT linked all of these components. More recently, I added an NAD M5 SACD player.
My quest to upgrade this system began in October 2008 with passive components: Audience aR6-T power conditioner, and AU24-e reference cables and interconnects. Berkeley Audio Design's Alpha DAC followed, several months after The World's Best Audio System 2009 event. Next to acquire will be Simaudio's Moon Evolution P-8 preamplifier and W-7M monoblocks. The full upgrade to my "retirement sound" should be completed with a state-of-the-art music server and a pair of Rockport Technologies Altair loudspeakers.
Choice of repertoire to evaluate my upgrades
Selection of an eclectic repertoire of reference recordings for the auditioning and quantitative evaluation of my upgrade candidates posed an interesting challenge, and choosing from several thousand albums didn't simplify matters. I've been an avid collector of CDs since the inception of the Compact Disc in 1982, and of LPs for the two decades before that.
I decided to use live recordings only. This reduced my choices substantially, but nothing compares with the thrill of listening to concert performances. My approach to auditioning this type of repertoire is entirely different, perhaps because I've spent over 25 years making live recordings myself.
Late at night, I would turn off all lights, close my eyes, and relax. Then I would perceive the musicians and become part of their experience. Quite often, especially in jazz concerts, a combination of chemistry, energy, and synergy puts the performers on song.
About live recordings
Live recordings can evoke an uncanny sense of atmosphere and realism, and audience applause generates many interesting spatial cues. Jazz musicians often talk or scat ad lib, and I always try to hear what they're saying. Moreover, live recordings generally create new, interesting engineering challenges and endless listening delights.
High-resolution systems extract innumerable subtleties from live recordings. An atmosphere of spontaneity, especially during jazz performances, embraces mistakes. Someone always coughs -- I like that. Some unsuspecting patron inevitably knocks over a (hopefully empty) bottle. I like that more. Uninformed audiences are prone to premature applause. I really dislike that. (My advice: If you're unsure of when to clap, clap with one hand.)
Live recordings instigate tactile feedback, drawing listeners into the vortex of a performance by creating an unusual interface of loudspeakers, performers, and listener. Studio recordings, especially multitracked ones, tend to be emotionally sterile.
I chose four albums, including one that had been half-speed mastered and pressed on virgin vinyl.
My test repertoire
Virgil Fox: The Bach Gamut (CD, Reference RR-107 HDCD)
Engineering wizard Professor Keith O. Johnson recorded this recital by organist Virgil Fox on Friday, September 10, 1976, at the Cathedral of St. Mary of the Assumption, in San Francisco. The world-acclaimed instrument he performed on was built in 1971 by Fratelli Ruffatti of Padua, Italy. Some 5500 patrons crammed into a space that normally accommodates half that number -- there wasn't even standing room. Commercial rights weren't granted until some 30 years later, when Johnson's analog tapes were restored and mastered by Paul Stubblebine.
A most revealing characteristic of this recording is its ability to demonstrate how high-quality amplifiers control the low-frequency excursions of woofers. I've heard instances where its ultra-low-bass content sounded flabby because the attendant amplifier lacked adequate damping factor and couldn't slew quickly enough.
Voluminous columns of air seemed to become continuously detached from the huge organ pipes. These developed long wavelengths associated with ultra-low frequencies as Virgil Fox "bached" his repertoire. I sensed the congregation sympathetically swaying back and forth as energy was dissipated throughout the cathedral.
One of my favorite tracks is "Sheep May Safely Graze." There's a lot of coughing and fidgeting, and the analog hiss is loud. There are many subtle nuances, including premature clapping on a few occasions. The patrons may not have been altogether familiar with Fox's repertoire; this I attribute to quite a number of young persons being present.
Overall, this recording is extremely palpable, with a massive soundstage and incredible dynamic range. The natural decay of the organ's tones gives a sense of a huge, reverberant space enclosed by stone walls. The recording is a thoroughly enjoyable experience filled with vivid perspective and lots of intertransient silence and realism, interspersed with occasional tape flutter.
Lena Horne: The Lady and Her Music (CD, Qwest CD3597-2; LP, Mobile Fidelity Sound Lab 2-094)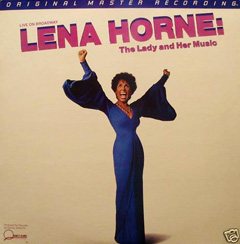 This double album was recorded in analog and mixed live at the David T. Nederlander Theatre on Broadway, in Manhattan, by Bruce Swedien. Engineering facilities were provided by the Le Mobile recording truck, and the Mediasound and Westlake recording studios. The date may very well have been May 12, 1981, as this was the first of an incredible run of 333 performances that climaxed on June 30, 1982. Horne is accompanied by a formidable cast of 28 musicians, including Grady Tate, Michael Brecker, Jon Faddis, and Craig Harris. "These songs are everything I feel," Horne said of her superb performance. Her favorite song is clearly "Stormy Weather" -- throughout the concert, variations of the tune appear frequently in the arrangements. The musicians are very well rehearsed and obviously very familiar with Horne's style.
The recording was released later in 1981 as a half-speed-mastered Super Vinyl LP by Mobile Fidelity Sound Lab. Keith Blake mastered the CD version for Qwest, produced by Quincy Jones. I was able to do some interesting comparisons between the Qwest and Mobile Fidelity versions, the latter proving far superior. There is tremendous atmosphere and crowd participation throughout the concert. It would be good to find out what microphones were used to record Horne, as there's occasional breakup of her voice. Audience applause on the CD sounds like cold bacon being cooked in a hot frying pan; on the vinyl, it sounds very natural.
The Stan Getz Quartet with Chet Baker: Quintessence Vol.1 (CD, Concord Jazz CCD 4807-2)
According to Steve Getz, Stan Getz's son, "It is my pleasure to present the seventh Stan Getz recording for Concord Jazz, Quintessence Vol.1, recorded at Sandvika Kino, Baerum, Norway on February 19, 1983, with Stan's working group at that time: Jim McNeely, piano, George Mraz on bass and Victor Lewis on drums." This CD is the last recording of an ongoing collaboration of two jazz legends, tenor saxophonist Stan Getz and trumpeter/vocalist Chet Baker.
Several things immediately come to mind when I listen to this album or use excerpts for demonstrations. First, there's the subtle, intricate, deft interplay whenever Getz and Baker perform in unison, especially on "Star Eyes." They seem to have invented a new instrument, a unique blend of tenor saxophone and trumpet for which I have coined the name saxopet.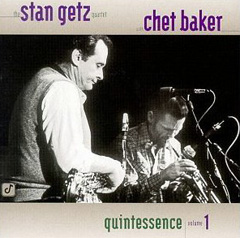 Second, Getz's inimitable phrasing is easily identified in blind listening tests. His deliberate, unhurried lyricism reflects a lifetime of collaboration with the father of bossa nova, Antonio Carlos Jobim. Be it a careless whisper or a voluminous crescendo, this maestro caresses his tenor with a gentle, secure confidence interspersed with the prescribed amount of intertransient silence.
The third factor is their choice and sequencing of repertoire, relative to the naming of the album. Quintessence means "the fifth or highest essence, after the four elements of earth, air, fire and water, thought to be the substance of the heavenly bodies and latent in all things." In my mind, this collection unfolds a story meant to weather time. Perhaps Baker and Getz knew that this would be their last recording together.
My fourth observation is that the sidemen almost pale into insignificance. Quintessence is all about Chet Baker and Stan Getz. Finally, the Norwegian audience is very well behaved and extremely knowledgeable. They know when to clap, and for how long.
"But Not for Me" is one of my all-time favorite performances. I like how, after the melody is stated, Baker scats his solo, accompanied by walking bass. Immediately afterward, Getz stands tall as he exudes his part, concentrating to the maximum. Steve Getz says that his father always closed his eyes when performing before an audience, so as not to be distracted. This track is one occasion in which all the other players test their mettle with tantalizing improvisation. The extended run by bassist George Mraz, taken immediately after Jim McNeely's piano solo, is crisp and deliberate enough to demand, for its accurate reproduction, a lightning-quick combination of amplifier and woofer. Nor was drummer Victor Lewis to be undone -- his delicate licks belie the name of the song.
Quintessence Vol.1 is a comprehensive demonstration of how to capture the nuances of overall soundstage presentation, depth, width, balance, palpability, and audience participation. Proper microphone selection and placement, as well as the sophisticated engineering by Morten Hermansen and Dag Kristoffersen, complete the picture. This music could soothe a newborn.
Miles Davis and Quincy Jones: Miles and Quincy Live at Montreux (CD, Warner Bros. 45221-2)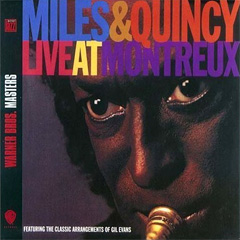 This album is just "a routine collaboration of a genius composer, Miles Davis, and a genius arranger, Gil Evans brought together by producer extraordinaire Quincy Jones." Other soloists are Kenny Garrett on alto sax and Wallace Roney on trumpet and flugelhorn. It was recorded on July 8, 1991, during the 25th anniversary of the Montreux Jazz Festival, with the Gil Evans Orchestra and the George Gruntz Concert Jazz Band -- a total of some 50 musicians.
Miles Davis defined, refined, and redefined the leading edge of jazz for almost half a century. From the mid-1940s until his death, he was a leader. His music has been described as being lyrical, introspective, and melodic; he often used a stemless Harmon mute to personalize his sound, and does so here with gusto and panache.
Superproducer Quincy Jones has an uncanny gift for being able to eke out optimum performances from musicians. "I play the musicians," he says. Just recall his phenomenal success with "We Are the World" and Michael's Jackson's Thriller, to name but two. It's hard to believe that Davis was gravely ill when he undertook the challenge of traveling to Switzerland to perform some of the Gil Evans arrangements that had made him famous. He died less than three months later, on September 28, at the age of 65. But on this day, Miles played for Quincy. We're just lucky to be the beneficiaries of their alliance.
From the introduction by festival organizer Claude Nobs and Jones's reply of "Merci, merci, Claude" to the end of the program, one's attention is riveted. Overall, the crisp attacks of muted and unmuted trumpet sounds suggest that I should use recordings of this instrument more often, to assess transient-response characteristics of loudspeakers. I'm enthralled by the delicacy of the cymbal work, the depth and breadth of the soundstage. Jones's conducting is impressive, if not outstanding -- there's never a doubt in my mind that these two ensembles were performing under a single baton. Jones literally had the audience at the Montreux Casino eating out of his hands, and I was teleported to the banks of Lake Geneva.
Phase One complete
Phase One of my upgrade has been completed with entirely satisfactory results. My speakers seem to have disappeared. Much more depth, ambience, and spaciousness are being unveiled in recordings. Instruments and voices are natural, neutral, palpable, and transparent. Complex passages are perfectly delineated and finely etched in three dimensions across the soundstage. I am definitely hearing more detail, with an incredible sense of a vertical dimension. The system seems to eke out every possible nuance from every type of recorded music.
Bass is full and tight, with absolutely no hint of boom or overhang. Transients and microdynamics are crisp. I can easily follow their rise and decay, even in the midst of complex music that creates a shroud. The sound is exponentially approaching its asymptote of real musicians playing music in real spaces.
But I sense there is yet more to hear . . .
. . . Simeon Louis Sandiford
simeon@ultraaudio.com