May 1, 2003
Ultra Audio Goes to Son et Image 2003: Part One
Confessions of a show newbie
Friday, March 28, 2:00 p.m.
I'm driving toward Montreal from Ottawa for the Montreal show. Montreal is two hours away and I'm already late. Once the cultural and economic capital of Canada, it's still a big glamorous city, famous for good food, good jazz, and a cosmopolitan feel. I've dressed for the occasion in my best Cashmere long coat, with a set of Teflon-coated dress pants -- in case anyone throws up on me. I'm armed with my camera and notebook and feeling like Clark Kent on his way to meet Lois Lane.
4:30 p.m.
I show up at the Blue Circle room and am greeted by Blue Circle proprietor, Gilbert Yeung, looking distinctly un-Lois-Lane-like wearing a large cylinder of blue foam on his head. "It's my Blue Circle hat," he says. Starting to feel overdressed, I hand over the new BC24 amp I've been reviewing and retreat.
5:00 p.m.
I meet my bosses, SoundStage! publisher Doug Schneider and editor-in-chief, Marc Mickelson, loitering in the courtyard at the Delta. Uh oh, polyester jackets and no dress pants. They snicker at my beloved coat, and tell me I'm a show newbie who must suffer humiliation as a form of initiation. Great. Overdressed and underqualified, but nevertheless ready to represent the interests of Ultra Audio fanatics everywhere, I go to work.
5:30 p.m.

Choral Series rack-mounted (bottom to top) amplifier, preamp, DAC, and phono stage from Chord.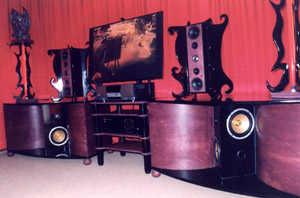 Art-i-Son horn-loaded bass cabinets with mid/tweeter units on top and scary, red-neon gargoyle lamps. Coffin not included.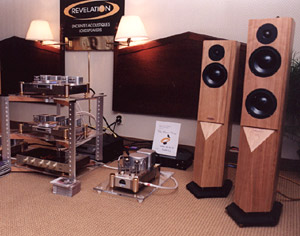 Shanling electronics with Revelation Audio's new Lyra 5 (inside) and Lyra 7 (outside) speakers.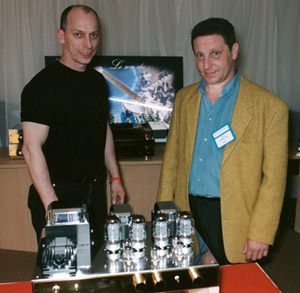 Pierre Gabriel (left) of Pierre Gabriel Acoustic and Patrick Calmettes of Jadis pose over the Orchestral Reference amplifier from Jadis.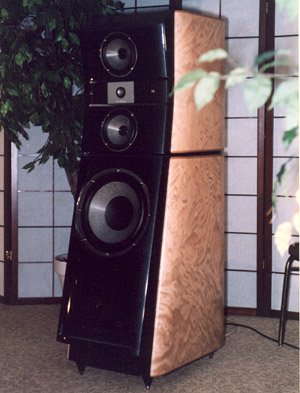 A JMlab Nova Utopia Be hides in the bushes.
The two hotels in which the show is being held are crowded, cramped, and undersupplied with elevators. Nine floors at the Delta and five at the Sheraton have been emptied of furniture, with rooms of various sizes serving as exhibition space. There are individual manufacturers, distributors, audio retailers, and audio magazines. My first room contains electronics from Chord of the U.K., distributed by Bluebird Music. The new rack-mounted Choral series is on display. For $25,000 CDN you get a 30W solid-state amplifier (the "Mezzo"), preamp (the "Prima"), the widely acclaimed DAC64, and phono stage (the "Symphonic"), each in a snappy milled-aluminum case of similar shape and all mounted at a rakish angle on a milled-aluminum rack. The rack itself sits on Chord's Quadraspire shelf system. A CD transport in the same style is coming soon, and Chord will manufacture the rack to match the number of components in your system. A nifty feature: The rack's four feet have three nubs on the bottom of each foot which will fit exactly into the complementary depressions found on the top of their larger, more powerful amps, in case you need more than 30W. Alternatively, the Mezzo may be bridged to 60W, and two of these used in a dual-mono configuration. A nice room to start with, with good sound and great aesthetics.
Custom, handmade speakers from manufacturers of local origin are to be found in surprising numbers at this show, exhibiting designs that are sometimes totally unconstrained by convention. One-man-whirlwind Stephane of Art-i-Son is a notable example, with his highly original neo-gothic-style speaker system consisting of two giant horn-loaded bass cabinets with smaller vertically arrayed mid and tweeter driver units that sit on top. The dark wood margins of the cabinets are drawn up in flamboyant curlicues, and the whole bizarre impression is complemented by red-neon table lamps with gargoyles on top. Finally, a speaker system that will fit perfectly into the décor of even the most style-conscious of the undead. Jokes aside, this system gets a thumbs up for sound. Driven by relatively modest electronics including a Kenwood amp, the bass was fast, tight, and solid, with very nice soundstaging and impressive transparency.
Speaker manufacturer Revelation Audio was exhibiting their new Lyra line of beautifully finished units with downward-firing bass ports. Word from the inside is that the two-way Lyra 5 ($1770 USD) is the star of the lineup. Though not particularly high in efficiency, the top-of-the-line Lyra 7 ($2200 USD, quoted at 89dB sensitivity) was driven without apparent strain by the new Shanling 50W EL-34 tube monoblocks ($3899 CDN/pair). Evolving powerhouse Shanling turned out a full rack of gear in this room that was so attractive you had the impression you might have been looking at the Crown jewels. Source was the Shanling CDT-100 tube CD player ($2999 CDN) with their new SACD/CD player, the SCDT-200 ($4099 CDN), on display as well. Each of the displayed Shanling products comes with beautifully finished and complex chasses with gold accents, and don't forget the digitally-controlled remote for the source components, as well as a synchronized volume control built into each monoblock amp -- remote volume controls on tube monoblocks? Be still my heart. "Irresistible Musical Witchery," proclaims the Shanling promotional material. An ill-advised translation no doubt, but the gist is accurate nonetheless.
Speaking of jewel-like components, the Jadis room, complete with a young girl decked out in angel's wings to greet patrons at the door, was chock-full of heavy, lead faceplates with 24-carat gold finish. Jadis family heir Patrick Calmettes was on hand from France, showing off his new Orchestral Reference ($4495 USD) 40W amplifiers, which can use 6550, KT88, 6CA7, EL34, or KT90 tubes. Their wallet-crushing $30,000 CDN CD transport and accompanying DAC were also on hand. There was witchery for sure in the Jadis listening room, consisting of the DA30 30W pure-class-A tube amplifier, which uses a similar tube complement to the Orchestral Reference, and Pierre Gabriel ML-2 interconnects ($800 CDN), speaker cables ($2000 USD), and speakers. This system was warm, real, and involving. I gave it the Ultra Audio System Award, 3rd Place.
JMlab is a company close to my heart, since I own their Electra 915.1 floorstanding speakers. I was particularly interested in their newly revamped Utopia line, which features burled-wood cabinetry and a new Beryllium tweeter to replace the Tioxid tweeters in the old Utopias. The Nova speakers (replacing the former Utopia) were on display driven by YBA electronics, and sounding very impressive. The complete new lineup includes the Grande Utopia Be ($118,000 CDN), the Nova Utopia Be ($50,000 CDN), the Alto Utopia Be ($25,000 CDN -- replaces the former Mezzo Utopia), the Diva Utopia Be to be released in August, and the new Micro Utopia Be, which is slated to be released in April or May. The Diva has no equivalent in the former Utopia line, since it is rumored to be a floorstander, while the highly regarded Minis it replaces were stand-mounted units.
9:15 p.m.
Back at our hotel, we join up with legendary audio reporter Wes Phillips of onhifi.com, as well as Doug and Marc, all of SoundStage! fame, and our hosts for the evening, Rene and Marc of Paradigm. I'm heartened by the dress pants on the Paradigm reps and a full black suit in Wes's case, but my relief is short-lived. Wes has added a blue bandana to his bald pate and sports a single, heavy gold earring. "Hi, I'm Wes Phillips," says he, "I'll be your pirate for the evening." Once again, your mild-mannered Ultra Audio ambassador is out-cooled by his confident SoundStage! Network colleagues.
Saturday, March 29, 9 a.m.
A groggy breakfast in the hotel restaurant is followed by a frontal assault on the Sheraton. We take the lobby by force. The SoundStage! senior scribblers stride about, receiving waves, handshakes, and free CDs, while I am generally ignored. They own show coverage, and they know it. No matter. I may not be cool, but I have Teflon pants.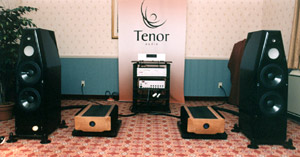 300W hybrid monoblocks from Tenor Audio and Kharma Grand Ceramique loudspeakers.
Robert Lamarre is the president of RL Acoustique, purveyor of the highly-regarded Lammhorn 1.8 high-efficiency single-driver speaker, and a driving force, with Francois LeMay and Michel VanDenbroeck, behind Tenor Audio. This company is a relative newcomer to the high-end-electronics market with their outrageously successful output-transformerless (OTL) amplifiers that use distinctive three-nipple 6C33 tubes. Robert explained that their 75W OTL monoblocks were considered overpowered for the low-power-obsessed oriental market, but underpowered for the wattage-obsessed North American market, hence their 15W and 75W amp lineup has been expanded with new hybrid tube/solid-state monoblocks that serve up 300Wpc piping hot and will set you back $29,900 CDN. A stereo hybrid is also coming soon. The hybrid monoblocks were exhibited for the first time at the Montreal show with a Meitner/EMM Labs front end and Kharma Grand Ceramique loudspeakers ($47,500 CDN). The technology involved in the transistor portion of these amps is top secret for now, but I can tell you they sounded absolutely un-transistor-like in this room. Apparently, the new monoblocks were set to make their world premiere in Las Vegas earlier this year, but one was stolen in transit. If anyone has this amp at home and is wondering what to do with it (or, indeed, what it is), do give me a call.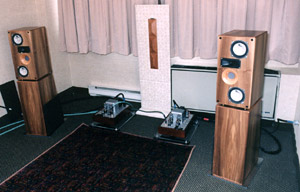 Strange-looking but good-sounding Quartette loudspeakers from SAP with 2A3 Signature monoblocks from Blue Cow Audio.
Blue Cow Audio is a manufacturer of tube amplifiers and a distributor of products by SAP (Strumenti Acustici di Precisione) of Italy, and vibration-control devices by Golden Sound of the U.S. The system on display included Blue Cow's 6W 2A3 push-pull Signature series monoblocks ($7200 USD) driving a pair of SAP Quartette speakers ($10,000 USD). Source components were the CDT-Two transport and DAC5 Signature by Audio Research. The monoblocks were mounted on a pair of "Relaxa" magnetically levitated acrylic platforms from SAP ($550 USD) that purportedly reduce noise and improve focus. These are odd little units that use mutually repulsive fields from rare-earth magnets. The platforms are capable of supporting a 70-pound weight. The half-life of the magnets, I'm told, is 400,000 years. So don't hold your breath waiting for them to give out. The sound in this room, particularly on Amy Cassidy's version of "Fields of Gold" (Live at Blues Alley [Blix Street 10046]), was breathtakingly pure, focused, and resolved. The speakers use a unique combination of two 5" full-range drivers fed directly from the amp (i.e., no crossover to these drivers) with a horn tweeter, horn supertweeter, and long-throw woofer in its own cabinet, all of which amounts to a very interesting design. Apart from some quibbles with the bass, I thought this system was shockingly good. I gave it the Ultra Audio System Award, 2nd Place.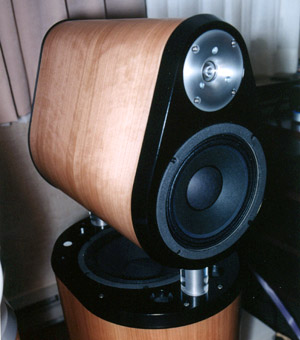 Audio UFOria Nova up close.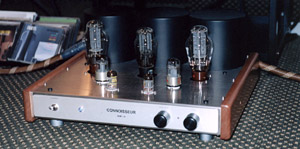 Connoisseur SE-2 300B stereo integrated.
Another example of a little-known boutique manufacturer that is raring to go with new product is Audio UFOria of Richmond Hill, Ontario (near Toronto). Designer Marlen Mogilever has spent more than ten years trying to produce "the best possible audiophile speaker systems." The company has taken advantage of recent advances in the availability of computer-controlled milling processes. They also manufacture solid-state and tube amplifiers as well as refreshingly inexpensive vibration-control feet called "Sonic Boost" ($10 USD/each). I'm happy to report that I got to this room first, and scored a set of these to take home with me while my audio emeritus colleagues went home empty-handed. Boy, am I going to get it for that. On display in this large room was a full line of speakers, including home-theater center-channels and subs with the same up-firing design as the bass units in their larger speakers. The Nova is the top model at $5995 USD and demonstrated remarkable dynamic punch and speed driven by a tiny "Audio Zone" solid-state amp ($1500 USD).
A big surprise awaited me in the Connoisseur Audio room, where newcomer Howard Lee of Toronto was exhibiting his SE-2 300B class-A single-ended amplifier, now selling at $2400 USD. The system was fed by a prototype of this company's new CD player, the CD-1, which upsamples to 24/192 and will be available soon at $3300 CDN. Speakers were JMlab Cobalt 806s, which are modestly priced bookshelf units from that company's home-theater line, and speaker cables were prototypes of Connoisseur's new line, soon to be sold for $400 CDN. The integrated amp also featured a crowd-pleasing remote control. But the real news was that the sound in that room was an order of magnitude better than I would have expected given the prices noted and the modest speakers in use. I was pretty much floored, particularly by the rich, bloomy bass. The testicular fortitude in evidence here had me checking for a subwoofer. There was none, only a specified 9W of single-ended triode using current-production Chinese 300B tubes with special high-magnetic-field-strength toroidal transformers wound in-house by Connoisseur. Could this last feature be their secret? Howard thinks so. Cleanliness and richness are next to godliness in my book, and were abundantly present throughout the frequency spectrum.
...Ross Mantle
rossm@ultraaudio.com

All contents copyright Schneider Publishing Inc., all rights reserved.
Any reproduction, without permission, is prohibited.
Ultra Audio is part of the SoundStage! Network.
A world of websites and publications for audio, video, music, and movie enthusiasts.