February 1, 2003

Ultra Audio Goes to CES 2003: Part One

For those of you who have never made the annual pilgrimage to the International Consumer Electronics Show (CES) in Las Vegas, I can only encourage you to make it next year. I really wasn't prepared for the overwhelmingly vast audio landscape awaiting me in what can only be described as the audiophiles' equivalent of Mecca. Room after room was filled with the Who's Who of high-end audio's luminaries, as well as those who aspire to become the industry's next big names. With the air charged with passion and creative exuberance, the high end was well represented. For once, good sound at a show seemed to be the rule rather than the exception, leaving me with more than a few exciting products to tell you about.

Day one

Day one began at the Alexis Park and breakfast with Richard Broida, co-founder of Avalon Acoustics loudspeakers, and present-day behind-the-scenes member of the Ayre Acoustics team. Talk about passion: Richard gave me a very enthusiastic schooling on the challenges of creating a zero-feedback amplifier. My head is still spinning! From breakfast we went to the Ayre room, which featured the new Avalon Acoustics Eidolon Diamond loudspeakers ($35,000/pair) and Cardas cable. First off, for anyone who has overlooked Ayre, do yourself a favor and offer them your full attention. From what I gleaned, the Ayre setup featuring the CX-7 CD player ($2950), V-5x amplifier ($4500), and K-5x preamplifier ($2950) demand a very close look. The system put forth utterly natural instrumental timbre, a wonderfully transparent soundstage, and a lively dynamic range.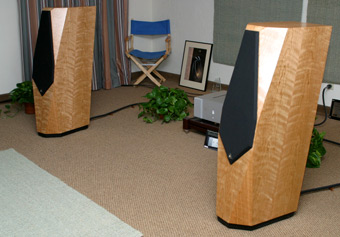 Avalon/Ayre/Cardas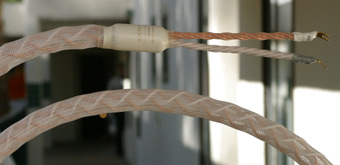 Shunyata Research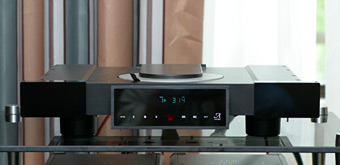 Gryphon Audio
My next stop was the Audiophon Loudspeakers suite. Driven by the Acoustic Signature Analog One Mk II turntable, these drop-dead-gorgeous speakers from Germany made really fine sound and presented serious bass response despite the rather dubious room dimensions. Here it was only a couple of hours into the show and I was already thrilled and surprised by the quality of the demos.
Running into Grant Samuelsen of Shunyata Research landed me in the room he and Shunyata's designer, Caelin Gabriel, shared with Balanced Audio Technologies and Wilson Audio Specialties with their WATT/Puppy System 7 loudspeakers ($22,400/pair). An array of Shunyata Research Hydra power conditioners ($2495), Anaconda power cords ($1995), Aries interconnects ($650/meter pair), and Lyra speaker wire ($1250/eight-foot pair) completed the system. Powered by the near-legendary BAT VK150 SE mono amplifiers ($17,000/pair), the system presented an incredibly coherent and detailed soundstage, backed up with the blackest-of-black backgrounds. This eerie silence, while a well-known quality of Wilson speakers, was no doubt further enhanced by the inclusion of the Shunyata Research products. I have a full complement of Shunyata's latest offerings and plan a review in the near future.
My final stop of day one was at the Gryphon Audio room. Featuring their new Cantata loudspeaker, along with the new Mikado CD player, the all-Gryphon system sounded spectacular. With an active-Q control for in-room bass-response correction, the speaker system presented an unbelievably huge soundstage and life-sized images within the relatively cramped confines. The Gryphon system also captured the rhythm of the music in a way very few systems can. This is gear that makes for sleepless, obsessive nights. I will be jumping through hoops, trying to get any one of the Gryphon components in for review.
Day two
Day two began with breakfast with Clement Perry, editor and founder of www.stereotimes.com. Always good for more than a couple of belly laughs, Clement is definitely one of the guys to watch in high-end audio. After devouring a mess of scrambled eggs and artery-clogging sausage, we were off.
The first stop was the Wisdom Audio room. Featuring their new line of amplifiers (produced by Edge Electronics) and the new $275,000 Infinite loudspeaker, the Wisdom system flat-out redefined what I thought possible in audio reproduction. I know what you are thinking: "It had better be great for nearly $300k!" Yes, you're right, it had better be great, more than great, for that kind of money. Yet I've heard more than a couple of megabuck speaker systems that came nowhere near the Wisdom system's achievements. The sonic picture was absolutely complete, perfectly effortless. Individual instruments simply "existed" in full measure between the speakers. Each instrument's dynamics ebbed and flowed with utter ease. And imaging? O-my-God! There was such depth and dimension to the sonic picture. One look at this enormous four-piece speaker system and you would never believe that it could disappear into the music, yet that is exactly what it did. I quickly realized that all speakers that had come before presented but a shadowy, ghostly facsimile of the music. We spent nearly two hours in utter shock, finally dragging ourselves away mumbling something about pulling off a bank heist in order to get our mitts on these bad boys.
The next stop proved there is more than one way to float the boat. Lamm Industries showed off their ML2 amplifier and L2 preamp to great effect. Lamm coupled them with some enormous vintage horn speakers, and Beethoven's Moonlight Sonata on vinyl washed over me with grace and beauty, causing me to re-evaluate my aversion to tube- and horn-based systems. American Sound constructed the turntable, a prototype, from blocks of solid steel. Despite its compact dimensions the base alone weighs in at 400 pounds!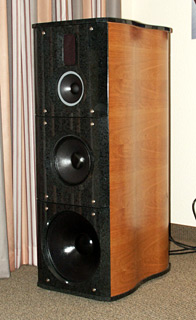 Pass Labs
Breezing my way into the Pass Labs room provided one of the biggest surprises of the show. Pass Labs debuted the $40k Rushmore powered speaker. With four low-wattage class-A amplifiers per channel, the Rushmore is capable of driving its high-efficiency drivers to a very usable 120dB. Fine-looking wood side panels along with polished-granite front baffles and top plates made for one snazzy-looking speaker.
One of the biggest discoveries of the show came via Dali of Denmark. The Dali Euphonia MS4 speakers -- helped along by Audio Research amplification, the CD3 CD player, and Wasatch Cable Works wire - flat-out floored me. The $7500 floorstander pumped out some wonderfully sweet and musical sound. We really got the room grooving with some seriously cool blues and gospel. Then the host, Graeme Boucher, put on a drum solo that had me scratching my head in disbelief. How on earth could this little speaker pull off that kind of bass and dynamic range? The speaker is my choice for the audiophile of means with a small room but with big-room taste. The big brother to the Model 4, the $10,500 Model 5, is slated for review.
Some of the other products that sounded great include the Audio Physic Spark. The small two-way speaker sounded way bigger than its diminutive proportions. This system featured the new DiMarzio M-Path interconnects ($150/meter pair) and High-Definition speaker wire ($250/eight-foot pair). Larry DiMarzio is a legend in the music industry via his guitar pickups and strings. He may well have thrown down the gauntlet, pistols at dawn if you will, for all other affordable and not-so-affordable wire systems. Another surprise came by the way of the Chateau Research Inc. digital mono amplifiers ($6000/channel) and Chateau Model 3 monitors ($3500/pair). These tiny dual-chassis 500W-into-4-ohm amplifiers powered the Chateau speakers with such resolution and transparency I was yet again shocked and thrilled. This is a company to keep a keen eye on.
Tenor Audio's Classic Series Model 75i monoblocks ($19,900/pair) were featured in more than a few rooms. The Talon Audio Firebird ($25,000/pair), the Kharma Midi-Grand Ceramique ($19,000/pair), and the Rockport Antares ($40,000/pair) put the Tenor amps to use, hoping to put their best foot forward. Located in adjacent rooms and all fronted by Audio Aero Capitole 24/192 Mk II CD players, these three setups provided me with one of those rare opportunities to compare different speakers under nearly identical conditions. While I was unable to spend enough time with any one system to draw definitive conclusions, I will say that the speaker of the three that I would most like to take home was the Rockport.
Look for the wrap-up report to be online February 15.
...Greg Petan
gregp@ultraaudio.com

All contents copyright Schneider Publishing Inc., all rights reserved.
Any reproduction, without permission, is prohibited.
Ultra Audio is part of the SoundStage! Network.
A world of websites and publications for audio, video, music, and movie enthusiasts.