June 1, 2008
Optimizing the Sound of the Song: Recording a Steel Orchestra
What manner of instrument is this?
The steelpan or pan, invented circa 1935 in the Republic of Trinidad and Tobago, is that nation's National Musical Instrument. It is a definite-pitch, acoustic percussion instrument made of steel, with a playing surface of circular cross section. This is stretched to a concave shape and attached to a hollow, cylindrical resonator called a skirt. The playing surface is divided into a number of isolated convex sections called notes.
A steelpan is usually played with sticks: handheld, rubber-tipped, non-sonorous mallets. Those skilled in playing the instrument are called pannists. An ensemble of steelpans encompassing approximately six chromatic octaves is known as a steelband or steel orchestra. The musical tempo is regulated by a rhythm section of musicians playing traditional percussion instruments, collectively called the engine room.
The quintessential neophyte
With Trinidad and Tobago's economic downturn in the mid-1980s, Sanch diversified its core business of selling loudspeakers into the recording of music for the commercial production of cassettes and CDs.
It was felt that our music industry would offer significant growth opportunities in the medium and long terms because of its potential to earn foreign exchange. During the 1984 Carnival season, Sanch invited to Trinidad Jack Renner, of Telarc International, who recorded the Panorama arrangement of the Exodus Steel Orchestra performing the song "Lucy in the Savannah."
Renner used a pair of Brüel and Kjær (now Danish Pro Audio or DPA) type 4004 reference omnidirectional microphones. Their outputs were fed to a Nakamichi DMP 100 processor and a Sony SL 2000 Beta video cassette recorder. We listened to the playback through a McIntosh C33 preamplifier and MC2500 power amplifier, and a pair of customized Bozak enclosures that Sanch had built. The results were encouraging, and Renner returned to Ohio. We purchased a similar portable recording system, which was used for ten years. My B&K omnis have been factory recalibrated in Denmark only once and are still in use today.
Wetting my feet
By 1995, Sanch had accumulated a vast catalog of indigenous recordings, mainly of steelpan music. However, I was apprehensive about the limitations of Nakamichi's analog-to-digital converter. In the main, our recordings sounded like homogeneous, one-dimensional blobs of sound emanating from between speakers. The high frequencies were severely attenuated -- hardly elegant. There was significant distortion, which produced absolutely no compulsion to listen to the music. Because the B&K microphones are well established as industry standards for measuring vibration, I knew that the problems must be in the A/D conversion process.
Sanch graduated from F1 to Digital Audio Tape (DAT) as a storage medium, with marginally discernible improvement in quality. Time and again, the commercially built converters would quickly run out of bits. It was then that I turned in desperation to my associate, friend, and guru of gurus, Professor Keith O. Johnson (KOJ).
Whetting my appetite
By 1995, KOJ had been working assiduously for ten years with software genius Michael "Pflash" Pflaumer to develop a sophisticated A/D converter that would at last enable him to retire his faithful, one-of-a-kind open-reel tape recorder. By simultaneously sending microphone feeds to this and to a digital counterpart, Keith was also painfully aware of the challenges that I encountered.
In 1996, with their launch of the Model One HDCD encoder, KOJ and Pflash presented a paper, "Compatible Resolution Enhancement in Digital Audio Systems," at the 101st Audio Engineering Society (AES) Convention in Los Angeles. The resulting industry buzz mandated that I immediately visit the Pacific Microsonics plant in Berkeley and return home with one of these new processors.
KOJ suggested that a second pair of precision-matched DPA directional microphones (model 4012) be used to improve spatial resolution and imaging. The signals from these are proportionally mixed (his trade secret) with those from the omnis in a custom-designed console. The derived stereo signal, 6dB below line level, is boosted by a Classé CP-60 preamplifier before being delivered to the analog balanced inputs of the Model One HDCD encoder.
The Model One's digital output is fed via an AES/ABU cable to a recorder. Formerly, this would have been a Marantz or Tascam DAT, but these have recently been upgraded to and superseded by a 24-bit hard-disk instrument, the Alesis Masterlink ML-9600. An Audience aR6p high-resolution power conditioner is used to filter the AC mains supply.
This rig is complemented by other bits and pieces, including an assortment of microphone and power-supply cables. Microphone stands are securely positioned on specially designed tripods equipped with conical feet for stability, and to minimize the deleterious effects of unwanted external vibrations.
Panyard logistics
Most recordings of steel orchestras at Carnival time take place late at night outdoors, in panyards (the abodes of steel orchestras), as the orchestras prepare to participate in the annual Steelband Panorama Competition, an integral part of our country's Carnival celebrations. No studio could possibly accommodate the sound pressure levels (SPLs) generated by these ensembles without encountering severe overload problems that would result in cacophony.
Panorama Music is an extended steel orchestral arrangement of the melody of a calypso, originally about 90 seconds to two minutes long. When fully exploited, these can be melodious, rhythmic, interesting, and challenging. The structure of a typical arrangement includes an introduction, statement of the melody, harmonic, motivic, and melodic developments, changes of key, changes of rhythm, modulations, and a finale.
For the competition, a large steel orchestra playing Panorama music typically comprises some permutation of the following: 36 tenors, 8 double tenors, 16 double seconds, 6 double guitars, 7 triple cellos, 6 four cellos, 5 quadraphonic, 4 four-tenor basses, 8 six-basses, 4 nine-basses, and 20 rhythm section, for a total of 120 musicians. For panyard rehearsals, more musicians are usually accommodated.
The layout of steel orchestral instruments has not been standardized and is still the subject of much error and trial. It is imperative to arrange musicians so that recordings present to listeners the correct perspective and a balanced, three-dimensional soundstage. To alleviate this problem, I visited Meyer Sound's facilities in California in 2003. Sanch now uses a pair of Meyer UPA-1P full-range speakers and matching USW 1P subwoofers, capable of generating 146dB SPL. With these, I often replay panyard recordings in situ. One disadvantage of performing in the bowels of a steel orchestra is that players in one section cannot properly hear the other sections. For instance, those on rhythm racks literally feel their way through the song, an eerie sensation that I have experienced on numerous occasions. Many tangible benefits accrue when stakeholders critique a playback of their performance. Subsequently, they can implement the corrective measures necessary to uplift the standard.
The Pan Jumbie
According to Cote Ce, Cote La, a Trinidad and Tobago dictionary, a jumbie is a mischievous or malevolent spirit, creature, or person -- a night person. John Schmidt, an audio engineer working with the American Broadcasting Corporation in New York, has religiously made annual pilgrimages to Trinidad Carnival since 1991. He is neither mischievous nor malevolent, but the third component of the definition describes him most appropriately.
John receives formal accreditation from our National Carnival Commission and attends every phase of the Panorama competition, taking pictures and posting reviews on the Internet. He and I spend endless hours each year discussing the volatile issues of pan. John usually treats himself to a varied assortment of audiophile recordings at Sanch, complaining bitterly of their unavailability in New York.
John's official sobriquet is The Pan Jumbie. While in Trinidad, he normally takes time off from his busy schedule to attend some of our recording sessions. This time, I apprised him of my new portfolio with Ultra Audio and requested that he take photographs at Exodus Steel Orchestra's rehearsal on Friday, February 1, the night before the Panorama 2008 finals. I wanted to give readers a visually informed idea of what is involved when 120 musicians prepare for the greatest showdown on earth.
Exodus Steel Orchestra
The Exodus Steel Orchestra, formed in 1980, is the youngest of Trinidad and Tobago's large steel orchestras, but has become one of the success stories of pan. They have won the coveted Panorama title on three occasions, and placed first in the inaugural World Steelband Music Festival, held in Madison Square Garden in June 2005.
The Exodus panyard is on Eastern Main Road, St. Augustine, East Trinidad. The playing area, in the shape of an amphitheater, is a natural acoustic space of some 20,000 square feet. Rehearsals generally take place late into the night for four to six weeks. Provision has been made for supporters and aficionados to occupy long concrete benches located close to the sidewalk. There is a well-stocked bar and gift shop where patrons can purchase CDs, T-shirts, and other cultural artifacts.
In their most recent innovation, the Exodus management has removed the canopies that once covered the pan racks; players are now accommodated on elevated mobile ramps. The new arrangement was unveiled in Barbados during a performance by 300 pannists for the closing ceremony of the 2007 Cricket World Cup. Apart from the obvious acoustic benefits for their soundstage presentation, the sheer impact of this ensemble performing in their black-and-white uniforms on a Panorama final night would be a spectacle worth the price of admission.
The new Exodus panorama soundstage
We arrived at the Exodus panyard at around 7:45 p.m. Setting up our equipment occupies the better part of half an hour. After switching it on, I normally allow about an hour for the system to attain its quiescent state. During this time, the performance of the Model One HDCD is optimized by exercising its converters with dither.
The microphone array was positioned about 15' from the first row of musicians, who occupied five additional layers. This meant another 45' to the engine room, which itself could have been about 15' off the ground. The width of the entire ensemble was approximately 90'.
Rehearsal began promptly at 8 p.m., with players continuously streaming in to occupy their positions. The band normally rehearses their piece several times at coasting speed before the arranger drills individual parts to his satisfaction. They then play at increasing tempo until the performance is just right. The rise time of a steel orchestra can be as long as two hours. Experience has taught me that when my pores begin to open and my ears to prickle, they are ready.
This year, Exodus would be playing Puncernelly by Winston Scarborough, aka The Original de Fosto Himself (no one else!), arranged by Pelham Goddard. Instruments were tuned by Wallace Austin. Ainsworth Mohammed, affectionately called Manage, is the band's manager.
Exodus is probably the only steelband that currently uses two drum kits for its Panorama presentations. I have previously written about being obsessed with delineating the locations of percussionists across a soundstage. This information is stored in aural memory, to be retrieved when listening to a playback. I find this to be one of the best ways to evaluate the powers of resolution of an ostensibly hi-rez audio system.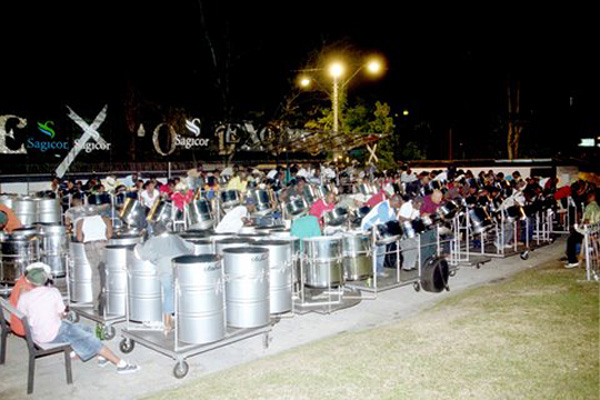 Exodus stage left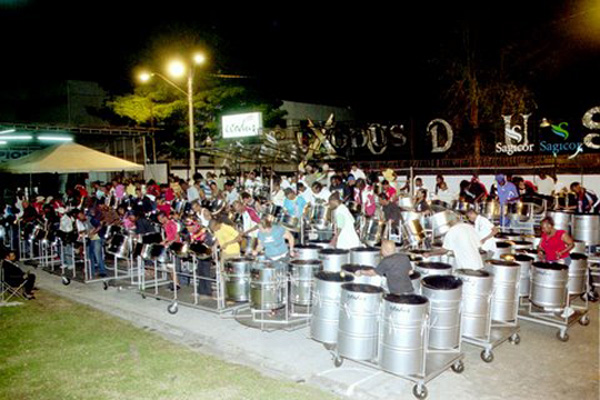 Exodus stage right
Monozygotic twins?
For years, I have listened to drummers Don Rampersand and Alex Gooding weave their magic, but never have I been able to hear two separate persons playing trap sets. It is as though they are monozygotic twins with perfectly synchronized heartbeats, mocking doctors and ultrasound machines into believing that only one fetus nestles in their mother's womb. On this occasion, I could see and hear them clearly.
The airy, shimmering, unfettered sounds of the decays of Rampersand's and Gooding's cymbal crashes scythed through the still air. I could not detect a single moment when Don and Alex were out of sync. The remainder of the percussion was well focused, crisp, and unobtrusive. Ironmen must have wrists of steel (pardon the pun). Five of them and their tinga licky tinga licky tinga licky ting added distinctive metronomic precision to the vibe of the engine room.
Conga players tend to sound obtrusive and louder than everyone else in a steelband. I normally ask them to use bare hands, but in the Panorama they prefer pan sticks. With my eyes closed, I had absolutely no difficulty hearing Exodus' two congueros. I felt they were a trifle dominant, but their sustained poompy toom pootoom, poompy toom pootoom was not necessarily garish. The four scratchers, two timbales, and two woodblocks were all palpably discernible.
The band's frontline was sharp and concise, if probably a shade bright. It was obvious that the instruments had been meticulously tuned: the individual voices of the 40 tenors, 12 double tenors, and 18 double seconds could be clearly discerned. There was a rich blend of the midrange pans, and all players exuded confidence as they executed their runs with dexterity, passion, and verve. Bass lines were crisply articulated, without overhang. The tenor and six basses added a great deal more oomph to the music than I could remember ever hearing.
Overall, the new Exodus soundstage was lush, vibrant, coherent, and transparent. I remained transfixed, enveloped in the skillfully painted, hyperfinely delineated sonic canvas. The absence of canopies ensured that there were no unwanted modes of vibration, no standing waves, and absolutely no coloration of the exhilarating sound. This experience would be indelibly etched in my subconscious for a long time.
Could all of this melodic élan be attributed to the acoustic freedom gained from removing the canopies? I would have to compare this performance with my recording of Exodus' 2006 rendition in order to make an informed decision. However, I had an instinctive sense of a revolution in steel orchestral sound. I was hearing more. After 25 years of marginal success, had the sound of the song been optimized at last? Would this be the best Panorama recording I had ever done?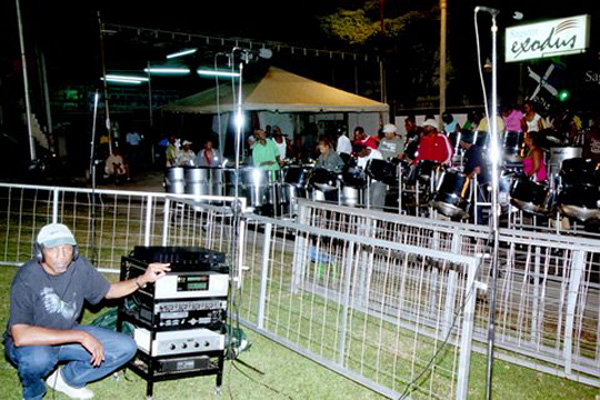 Recording Exodus
Escalating backward?
It is anyone's guess what the future standardized 24-bit audio format will be, or if there will be one at all. Pacific Microsonics built some 150 HDCD decoders before Keith Johnson sold his patents to Microsoft. Bill Gates now uses some elements of the technology for watermarking that company's software.
There seems little hope of resuming production of HDCD audio processors. Many high-end manufacturers continue to incorporate HDCD decoding capability in their CD players. The facility is also available in Microsoft's Windows Media Player, hardly an audiophile's cup of tea. Thousands of HDCD music titles are available, though many do not indicate on their booklet covers or tray cards that they are so encoded, and new HDCD releases are no longer posted on the website www.hdcd.com.
In the past four years, Sanch has released ten CDs from archived F1 recordings, remastered in HDCD format. The Model One interpolates information that was previously missing and substantially removes unwanted additive and subtractive distortions from our archive of original master tapes.
I have yet to hear a closer digital facsimile of a microphone feed than an HDCD conversion of same. I have not had much experience with the Model Two HDCD processor. Paul Stubblebine probably has more of these in his San Francisco mastering studio than can be found anywhere else in the world. Their performance is, in one word, incredible.
Exodus placed third in the finals of Panorama 2008. The photographs are courtesy John Schmidt, The Pan Jumbie. Thank you once again, John.
...Simeon Louis Sandiford
simeon@ultraaudio.com

All contents copyright Schneider Publishing Inc., all rights reserved.
Any reproduction, without permission, is prohibited.
Ultra Audio is part of the SoundStage! Network.
A world of websites and publications for audio, video, music, and movie enthusiasts.