January 1, 2008
Searching for the Extreme: Italy's Top Audio -- Part Two
By my second day at Top Audio, I had figured my way around and was reacting less to the bustle and noise. I could move quickly to things on my list I wanted to hear, and had more time for the gentle surprises. I use gentle deliberately; what showmanship there was was more about pleasing visual presentations than loud or attention-grabbing audio ones. The demos at Top Audio seemed to cozy up to you rather than hit you over the head. They put a fat goblet of vino di rosso in your hand and invited you to slip off your shoes. I liked it.
The first thing I wanted to see was Pathos equipment, so right away, I got over to the room occupied by Music Tools (Pathos's distributor) on Floor One of the Hotel Quark. What I found was a gorgeous display of the newest member of the Pathos line: the debut of their new, entry-level CD player, the sleekly styled, low-profile Digit (€3000). I took few technical notes as, bemusedly, I realized that the player's name could be pronounced plainly as digit (as in digital), or, more boldly, as diggit -- as in "Yo, diggity, homes . . ." Like all Pathos gear, the Digit sports a seriously postmodern look that is unmistakably Pathos, reflecting the latest in Italian audio glam.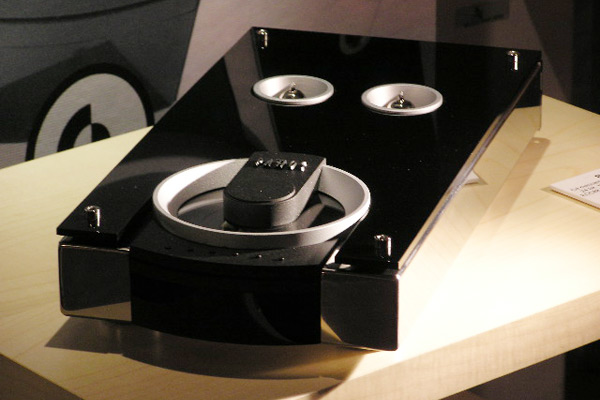 Pathos unveiled their new, entry-level CD player: the sleekly styled, low-profile Digit (€3000).
A bit more systematic in my approach than on the first day, I consulted the show guide (which I'd marked up) and studied my itinerary. I'd decided to start from the lowest basement floor and work my way up, so I trotted down the building's central spiral staircase, pushing my way past the throngs of pokey visitors stalled in conversation on each landing, and went down a long hallway to the Nabla room. This Roman distributor had put together a deeply resonant system built around a pair of Piega CL 90 X speakers (92dB, 4 ohms) and superb electronics from German designer ASR. The music was Brazilian samba with female vocals, congas, and acoustic guitar -- warm, toe-tapping, and full of sabor. The CL 90 X, Piega's flagship speaker, is a coaxial three-way with a rectangular ribbon tweeter embedded in the midrange woofer. Its attractive cabinet is milled from a single three-ton billet of extruded aluminum and finished in Arctic silver. And, at €3050/pair, it seemed supremely affordable, too.
Up another basement floor, Conrad-Johnson and Magneplanar had gotten together in the PFA room to play palm-court accordion-trio music through a system sourced by a Goldmund Eidos 35a CD player (price TBA). The power amp was a C-J ET-250, a 250Wpc hybrid with an enhanced triode design (€9550), and the preamp was C-J's ACT2 (€19,500). The speakers were Magneplanar 3.6s (€8000/pair). Wires were about €3000 worth of XLO References for the entire system. With the volume at a moderate level befitting the small-ballroom roots of the sensuous accordion music, the system put out a sinuous sound with superb microdynamics on a version of the "Habanera" from Bizet's Carmen. I thought it gave the room the ambience of an alfresco concert in an outdoor caffč in Venice's San Marcos Square.
Up another floor to the Pił Uno Distribution room, I heard a beautifully articulate and layered system sound from Bluenote. You can always expect splendid design and craftsmanship from this company, which is based in Florence -- a center of art and music for over 600 years. The source was Bluenote's Stibbert II CD player (€3495), a new iteration with trimmer dimensions to better fit into audio racks. Power and gain were supplied by the Bluenote Demidoff 50Wpc integrated amplifier (€3995). The Bluenote electronics drove a pair of Italian-made Pearl EVO 302 speakers (three-way, 89dB, €12,300/pair), with separate cabinets for the subwoofer (with the burlnut fascia) and midrange/tweeter. The speaker stack had great looks, the bass was beautifully articulate yet controlled, and the midrange/tweeter combo created a fabulous layering of choral sections when I put on Mozart's Mass in C Minor. I could make out each group of singers -- sopranos, altos, tenors, basses -- yet all came together in airy harmonies, as a choir should. It was the most complete and refined sound I'd heard at Top Audio with this very difficult challenge of full choir, orchestra, and soloists. The system was equally impressive with "Duke Ellington's Sound of Love," a romantic, post-bop, unabashedly retro jazz composition by Charles Mingus. It produced alternately fat and exquisitely pianissimo tenor-sax solos, precise piano runs, and resonant, authoritative stand-up bass. Mingus Fingas. I'd always held Bluenote in esteem, but I came away from Top Audio with a fresh appreciation for their electronics' dynamics, sophistication, and ability to give a living presence to both classical and jazz recordings.
By far the most eye-popping system was presented by Rise Acoustics: an 88dB bass-reflex two-way that looks as if it could've been designed by Hannibal Lecter. The red elastic tensioners suspend the carbon-fiber driver cabinet in a kind of chinstrap reminiscent of the leather restraining mask in The Silence of the Lambs. I was assured, however, that form has followed function in this suspended design, which produced a wondrous and lively sound, rich in tone and resolving in texture.
By midday, I felt I needed to slow down. I'd been covering a lot and wanted a little rest, as well as something that might provide a bit more depth to my notes -- not just technical or impressionistic depth, but something else: a philosophy of sound and design that was not only memorable, but mysterious. Misterioso . . . beautiful and I don't know why. I got all of this at Unison Research, who, through U.K. Distribution, occupied a medium-sized room on the first basement floor, where they unveiled the newest in their well-known line of hybrid integrated amplifiers, the Unico 100 (€3900). The 100 puts out 180Wpc, is dual-mono, and has a digital potentiometer and a remote input control. Like other amps in the Unico line, the 100's input stage uses two 12AU7 tubes. This amp is built on the same chassis as the Unico 200, but fills a different power niche. All of this was explained to me with genial patience by chief engineer and Unison founder Giovanni Sacchetti, a wiry, casually dressed man with graying hair who was completely unprepossessing in manner.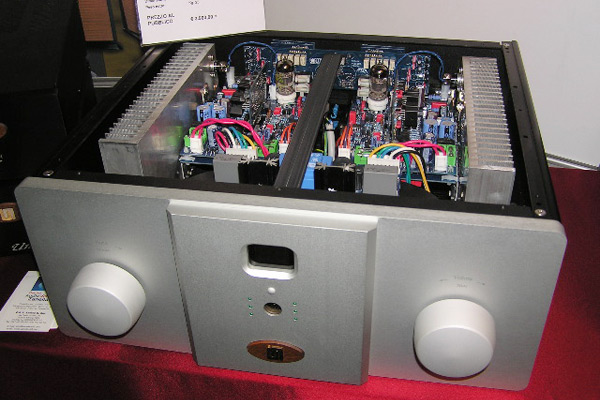 The Unison Unico 100 (€3900) made its debut at Top Audio.
Sacchetti walked me by other Unico models making their debuts. First was the new Secondo integrated amp (€2008), which is available in black or silver, as will be all Unico amps from now on. "Black is back!" Sacchetti said. Unlike other amps in the Unico line that use the 12AU7 tube in the preamp section, the Secondo employs two 12AX7s in its input stage, which is pure class-A. The hybrid amp produces 100Wpc at 8 ohms, or 200Wpc at 4 ohms via a double power MOSFET in dynamic class-A. There are five unbalanced line inputs, one balanced, and an output for a subwoofer. The Secondo uses an Alps potentiometer and, like the Unico and Unico SE, is available with an optional phono stage (€154). This amp might make for very interesting review material.
Unison also introduced its new push-pull amplifier, the gorgeous P-70 (€4950), personally designed by Sacchetti. Using an interchangeable faceplate of Murano glass available in a variety of colors and textures -- oooh, that Italian styling! -- the P-70 has been a year-long project for Sacchetti and his team. The decision to create a push-pull amp in addition to their very-well-known line of single-ended-triode (SET) amps had to do with concerns about saving energy. "We were asked to have high power with minimum consumption," Sacchetti said. The P-70 is dual-mono, with four inputs and an entirely balanced circuit. It produces a minimum of 70Wpc, but Sacchetti rates it up to 80Wpc. It can use KT90, KT88, or 6550 tubes, as the tube bias is easily adjusted. The signal tubes are two 12AX7s and one 12AU7. "I hope for a Chinese copy of this, because they copy only the best," said Sacchetti wryly. It sounded like a dare.
In the same room, Opera Loudspeakers was introducing its new Callas minimonitor (86dB, 4 ohm, €2990/pair), a bass-reflex design, in a sweet-sounding and highly resolving system that included the Unison Research P-70 and Unico CD player (€2039). Even with its elegant cabinet, the Callas at first seemed like other minimonitors, but its design is unique, with five tweeters in two arrays: two firing forward in a doublet array, three in a rear-firing triplet array for ambient sound. It boasts solid-copper phase plugs and a beautifully natural sound with a shimmering top end. I heard three tracks of the Eagles reunion CD, Hell Freezes Over, and a melodic piece of Ellingtonia that was to die for. The soundstage was amazingly deep, with a continuous horizontal spread from speaker to speaker. The system made the room itself an acoustic instrument, with great ambient harmonics, tight bass, and a warm, articulate midrange. Stands cost extra.
Finally, perhaps the most gorgeous electronic equipment I saw at Top was the Unison Research Absolute 845 integrated amplifier (€32,445). The Absolute is a dual-mono, 40Wpc, class-A integrated with a tube output stage. Its copper top plates seemed like chaises on which the six tubes lounged casually as bathers in the Italian sun. Unison, to me, creates the best blend of wood craftsmanship, glass tubes, and curving metalwork, bringing them all together in sleek and sinuous lines of amazing design, as though all elements and textures were of a single birth. Misterioso . . . Viva Unison!
After a quick lunch of panini and acqua minerale (naturale) at the standing bar, I turned a corner of the first basement floor and found Stefano Serralunga, of Milan's Sound Machine and B&B Audio. He'd put together an engaging analog system with a Nottingham Interspace turntable and Spacearm (€2300) and Nottingham moving-magnet cartridge (€250). The electronics were Cary 211 monoblocks (€24,000/pair), Cary SLP 05 preamp (€9750), and Cary PH 302 phono stage (€3300). Speakers were a pair of Triangle Magellan Cellos (91dB, 8 ohms): three-way, bass-reflex floorstanders costing €7990/pair. Wires were all Siltech. The system was playing an LP of Pablo Live at Montreux '77 when I strolled in, and there seemed no reason to ask for anything else. After my long day of listening -- perhaps too critically -- the music sounded warm, resonant, and completely relaxing. What is it about Italy? I thought. There seemed to be a cult -- a caring and intelligent one -- of leisure that governed their approach to audio too, even when they put together systems made up of equipment from elsewhere. Slow cooking, I thought; then, Slow audio. Why had I spent only ten minutes over lunch?
Just past the midpoint of my second day I happened on the Audioplasma room, attracted by the fat sound of an old-school tenor saxophone (Coleman Hawkins?) drifting into the hall. When I walked in, I saw a VTL-driven system with Thiel CS3.7 three-way floorstanders (90dB, 4 ohm, €12,900/pair). Each CS3.7 has a 10" woofer and a 4.5" midrange driver, both with wave-shaped aluminum diaphragms. The dome tweeter is also of aluminum, with neodymium magnets and a copper pole sleeve, and is coaxially mounted inside the midrange. The amps were VTL MB-450 monoblocks (200W each, €18,500/pair), the two-box preamp a Metronome Technologie PA-1 (€12,600), and the source a Metronome Kalista CD transport (€28,900) with a Metronome C2a D/A converter (€22,000). The look was bella moda and the sound was a room-filling, languorous, seductive rendition of "Body and Soul." Again, with the relaxation . . . again, with the savor of life!
EAR teamed up with Nottingham and Spendor in the DML Audio room for a finely done, all-Brit analog system priced for the real world (relatively speaking). On the top of the rack was the Nottingham Hyperspace turntable (€4650) with Acespace 9" tonearm (€1265), and a Classic MM cartridge from The Cartridge Man (€2300). Second from the top (but sitting this one out) was EAR's Acute CD player, clad in chrome (€4225). On the third shelf, the preamp was EAR's full-function 912 (€9750) with MC4 step-up transformer. Finally, the amp was EAR's 534 integrated, putting out 50Wpc (€5300). Speakers were the Spendor S9e floorstanders in natural cherry finish (87dB, 8 ohm, €5150/pair), and cables were from Wireworld. I heard this system play jazz standards, from a Proprius LP of a Swedish quintet, in a manner quite smooth, sweet, and satisfying. Again, thinking back over several other systems that used US and UK electronics, I felt that the Italian dealers in general went for warmth and relaxation in their sound over slam, screaming guitars, and razor-sharp detail. It was easy to spend a little more time -- enjoying the music, sipping wine, nibbling antipasti -- but I had miles to go, I knew, and several systems yet to hear. But I wasn't weary in the least. Quite the opposite; I felt I was on to something about this culture and how it approached audio.
Late in the day, I met a man who was not only a distributor but a recording engineer: Silvio Delfino, of MPI Electronic in Milan. He presented McIntosh electronics with a Monitor Audio speaker making its European premiere: the Platinum PL-300, a 90dB, 8-ohm three-way with a ribbon tweeter (€7900/pair). The Platinum PL-300 ran biamped and biwired with four McIntosh MC275 stereo/mono amps (€5500 each) and the McIntosh two-box preamp combo of C-1000C (€14,000) and C-1000P (€15,500). The source was McIntosh's MDA 1000 CD transport (€15,000) and MCD 1000 DAC (€13,000). The system sound had great space and depth, with excellent tone and timing on an old Benny Goodman classic, "Sing, Sing, Sing." But, discovering my taste in music, Delfino wanted me to hear a live recording he'd made of the "Hallelujah Chorus" from Handel's Messiah, performed by the Chorus and Orchestra of the National Academy of Saint Cecelia in Rome when they'd come through Milan on a tour. Delfino's homebrew CD-R of the performance, recorded in a church and transferred from analog tape, had a great sense of space and grandeur, and the vocal detail and separation in the chorus was excellent. His system captured both the dynamics and ethereality of the piece, I thought; I admired its versatility in handling both Handel's baroque and Goodman's swing.
It was now almost 4 o'clock on Top's last day, and I still had a few more stops to make. Impossible to get to them all, so I chose to hit just two more: Magico speakers and Viva amps. The Magico Minis had been part of what I'd thought was one of the three best systems at the last Consumer Electronics Show, and I wanted to hear them again. Viva's amps have a beefy, custom look about them, and a gorgeous, timbrally rich sound. They've long been an interest of mine, ever since I first heard one of their integrateds at Blue Moon Audio in Oakland, California. Lucky for me they were showing together. I ambled up from the basement to an upper floor and saw, displayed on a hall placard, the aegis of Audiograffiti, distributor for both lines, and ducked into the small room indicated. There I met Sergio Pozzi, president of Audiograffiti; his daughter Maura Pozzi, a professor of psychology; and Amedeo Schembri, of Viva. They'd teamed up to present a fast, detailed, nimble system with Basis analog gear, Spectral electronics, and MIT wires. The Magico Mini 2 monitors (86dB, 8 ohms, €29,800/pair), sounded completely different from what I'd heard at CES, when they were hooked up to electronics from Balanced Audio Technology. Their sound at CES had been warm and rich, but in Milan they sounded refined and airy, demonstrating a wondrous transparency and an acute sensitivity to the front-end components. The analog rig consisted of the Basis 2800 turntable (€12,500) with Basis Vector 4 tonearm (€4000) and Lyra Titan I cartridge (€4900). Electronics were the Viva Fono (€14,640), Spectral DMC-30SS Reference line stage (€17,500), and Spectral DMA-250 stereo amplifier (€12,500). Cables were by MIT. Idle was the Spectral SD-400 Reference CD Processor (€27,500). Racks were a Stillpoints five-shelf (€3190) and four-shelf (€2990).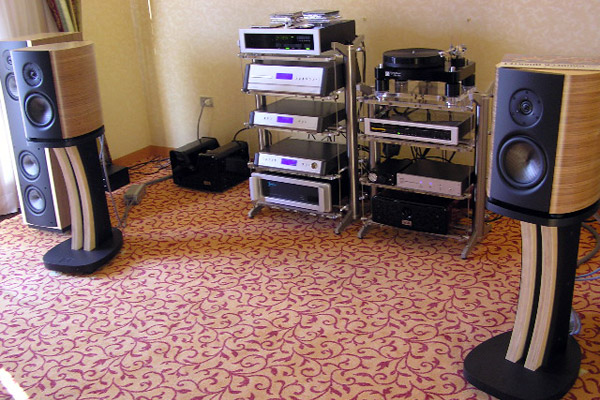 Magico Mini 2 speakers with Basis analog and Spectral and Viva electronics on Stillpoints racks.
My final stop at Top Audio was just across the hall, where Viva was sharing a room with Amphion speakers. As confessed above, I have a weakness for designs that present wondrous mysteries to me, and Viva does that. Amedeo Schembri, Viva's designer, explained that he preferred the most simple solutions to the complex engineering problems posed by high-end audio design. "I want the linearity of the modern," he said, "but with the warmth and -- how you say? -- the realism of the amplifiers from the past." His system consisted of the Viva Solista LT integrated amp (17Wpc, €7400), and, making its European debut, the neat and nimble Amphion Prio 520 loudspeaker with side-firing woofer (87dB, 8 ohm, three-way, €2290). The source was the three-box Paganini from dCS: CD transport, DAC, and word clock (€30,000). Silent were the Amphion Xenon speakers (three-way, €4100/pair). The sound on orchestral works by Stravinsky and Wagner was clean, balanced, and natural, with great depth. I always love the sound of dCS digital equipment -- so precise and focused, without being edgy or etched; so clean and tonally accurate -- and here it was given weight and body by the Viva amplification: in all, a lovely synergy throughout. I came away thinking this would be a perfect system for a small listening room in the suburbs or an apartment in Milan -- or Portland, Oregon for that matter.
...Garrett Hongo
garretth@ultraaudio.com

All contents copyright Schneider Publishing Inc., all rights reserved.
Any reproduction, without permission, is prohibited.
Ultra Audio is part of the SoundStage! Network.
A world of websites and publications for audio, video, music, and movie enthusiasts.