November 1, 2007
Searching for the Extreme: Italy's Top Audio -- Part One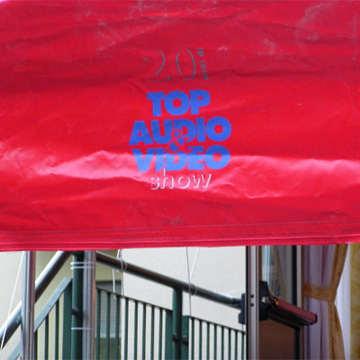 Touring Tuscany last month, I broke off from my trip and took a train from Florence to Milan in order to attend Italy's main showcase for hi-fi, the Vienalle (20th Anniversary) Top Audio & Video Show, which took place September 14-16. Top Audio took place at the ATAHotel Quark just south of the city -- 140 companies, 700 brands, and over 20,000 visitors filling five floors of the Hotel Quark.
The trip was the continuation of a romance for me -- I love Italy, its landscapes, culture, and cuisine. And I've always enjoyed Italian audio equipment, suspecting that its quality and design features have been influenced by the country's long tradition of classical, baroque, and opera music. I own two pairs of Sonus Faber speakers, a Mastersound amp (badged VAIC), and have long admired electronics by Unison, Pathos, Viva, and Bluenote. The exhibits of these manufacturers were on my short list to visit, along with those of other European brands, but I hoped to run into some surprises too -- perhaps equipment not yet distributed in North America. I wasn't disappointed, and I learned a few things along the way.
The first place I headed for was the Mastersound room. I'd met Lorenzo Sanavio, one of the owners of Mastersound, at the Consumer Electronics Show in January, and this past spring I'd bought a 300B amp designed by his father, Cesare Sanavio. Lorenzo and his brother Luciano are carrying on their father's tradition, manufacturing only zero-feedback SET amps. When I entered the room, there was Lorenzo, smiling and getting ready to spin a CD. He welcomed me and gestured to the two massive amplifiers on the floor: making their European debut, the new Mastersound Reference Pf 100 Limited monoblocks (€27,000/pair). Playing American big-band music, they sounded fast, very detailed, and powerful. Sanavio explained that the Pf 100 is a zero-feedback, semi-auto biasing, parallel 845 SET amp putting out 117W -- all in class-A. The parts are of the highest quality: Mundorf caps, silver-alloy solder, gold-plated sockets, and transformers hand-built in the Mastersound factory in Vicenza. The monos are a brand-new design that Sanavio thinks may be the most powerful single-ended, pure class-A amp on the planet. When I heard the Pf 100s, staying for about 40 minutes (about seven generations of Top Audio drop-ins) while the system played American jazz, Renaissance choral, and classical orchestral music, the amps exhibited excellent control, put out a rich and harmonically saturated sound, and while the tubes were hot enough to scramble eggs on, the transformers remained absolutely cool. With Sarah Vaughan singing "In a Sentimental Mood," the amps gave her voice such a clear and firm melodic line, fleshing out her melismatic flourishes and other vocal ornaments with such remarkable sonic weight and realism, that it was as though I'd never heard the recording before. The rest of the system comprised ASW Genius 400 two-way speakers (93dB/4 ohm, €4600/pr.), a Mastersound PH L5 preamp (€3300), a North Star Sapphire CD player (€5000), and cables handmade by Mastersound.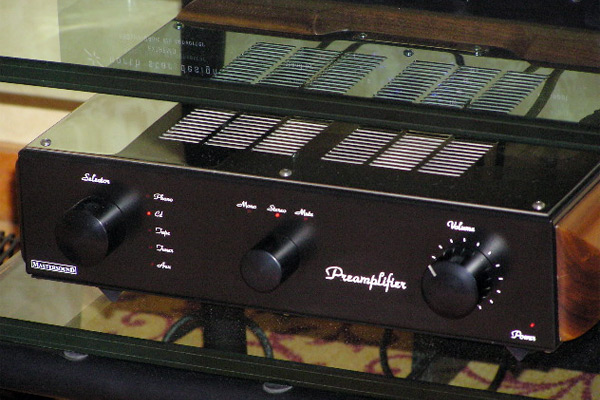 The new Mastersound PH L5 full-function, zero-feedback preamp (€3300), which includes a moving-magnet phono stage, four high-level inputs, and radio-remote-controlled volume.
I then made my way to the main Audio Note room, where Peter Qvortrup, that genial madcap, presided over the standout demo of the show. The AN Gaku-On Monoblocks (€150,000/pair) drove a no-holds-barred, no-compromise system with a pricetag of nearly €450,000. I'd spent about 30 minutes listening to LP tracks of classical orchestral and piano music when Peter archly suggested that he put on his favorite CDs of heavy metal, electronic, and Bang-on-a-Can fusion. They blasted the room with sound. Over the brilliant cacophony, he yelled, "Audio Note has the philosophy that, instead of pushing air, the speaker pressurizes the room!" The units doing the blasting were a pair of E-Sogon speakers (€100,000/pair), which could also play everything else he threw at them: Fritz Kreisler violin cadenzas, Glenn Gould performing Bach, Peter Maag conducting the London Symphony in Mendelssohn's A Midsummer Night's Dream, and Ben Webster's fat tenor saxophone. The AN system performed like an audio changeling; it was nimble, timbrally rich, layered, thumping, blasting, nuanced -- whatever the music called for. For €449,500, well it should.
A few rooms later, I stepped into the Best Audio and Video room, where I recognized some familiar equipment: the Manley Labs amps and preamps. There on the floor were the battleship-gray Snapper 100W monos (€5600/pair) and Neo-Classic 300B preamp (€6700). The source was a Spectral SDR-4000 CD player (€24,900), and the cables were by Solitone of Hungary: Premium interconnect (€360/1m pair) and X-Speakers (€600/2.5m pair). With the Manleys, Best used the Austrian-made WLM Lyra Mk. 1 speakers (98dB, €6300/pair), which employ a supertweeter and can be fitted with an external crossover. With the soft, nylon-strung guitar music that was playing when I came in, the system created a sound that was warm and entirely pleasurable. Manley's retro American styling stood out even more here. Listening to Sarah Vaughan sing "In My Solitude," it occurred to me that, even when they used American equipment, the Italians seemed to strive for a warmer, more intimate sound. The result was somehow less showy and in-your-face than a lot of the exhibits at CES, but still thoroughly engaging, and set a mood that was relaxed and leisurely -- a perfect way to enjoy music.
Podium Sound, a British manufacturer, was a wonderful and delightful sonic surprise -- I hadn't heard of this company or its speakers. In a small room on an upper floor I found Shelley Katz, a man with a strong gaze and dressed in a neat suit, standing inside the foyer. When I stepped inside, he handed me a brochure. Taking it and glancing past his shoulder, I spotted two planar-looking panel speakers that he told me were making their international debut. Associated components were an Oracle CD 2000 and the Plinius 9200 integrated amp. I listened for a while and found the system sound very resolving of Mozart's difficult Mass in C Minor, in a recording with a small orchestra and a large choir -- as well as of some Cuban jazz with a lot of rhythmic complexity and fast, ephemeral transients. Katz told me he'd designed his speakers as floating panels based on transverse-wave technology: no ribbons, no electrostats, no cones, no subwoofers, no crossovers. The speakers are 91dB/6.8 ohms with a frequency range of 40Hz-20kHz. A Julliard graduate and acoustic scientist, Katz is also an accompanist and a concert pianist.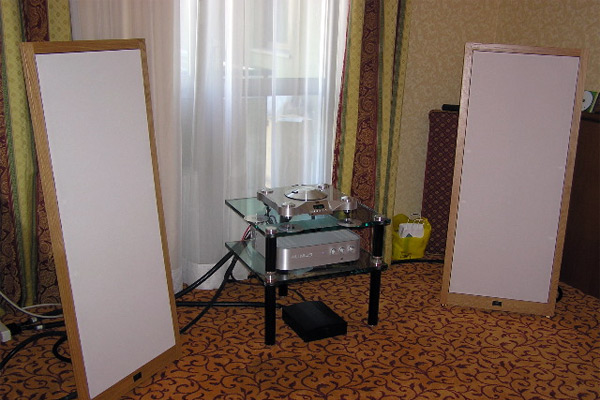 Podium Sound's .5 panel speakers (€4500/pair) with Oracle CD 2000 CD player and Plinius 9200 integrated amplifier.
Another wonderful surprise was Audiosonica, a small manufacturer of a choice and ingeniously crafted line of speakers. Audiosonica had put together a seriously refined system: Bluenote Stibbert Mark II CD player, their own HE KT90 prototype tubed power amp, a Klimo Merlino Gold dual-mono preamp (€3800), and their own top-of-the-line speaker, the Dragonfly (€9600/pair). The Dragonfly is a compact three-way with a front baffle over the woofers to prevent distortion over 42kHz -- the baffle creates diffusion so that sonic nasties don't fall on the ear. This was explained to me by Fabio Fiori, designer and CEO of Audiosonica. His company had been unknown to me until I strolled into their room at Top Audio, and I was delighted to make the acquaintance -- their speakers seemed to occupy a distinctive niche in terms of their nimble and refined sonic character and unique overall design. It was altogether fitting that the speakers' model names all come from patterns in the art of fishing the dry fly -- feather nimbuses dappling and skittering over the surfaces of brooks and streams. The speakers themselves rippled with power and allure. The sound I heard was beautifully airy and magical on Puccini and Verdi arias, on a choral piece by Ockeghem, and on a track from Romantic Warrior by Return to Forever.
Another highlight was the Audiogamma room with the new B&W Signature Diamond two-way speakers (€16,000/pair), driven by CAT's inimitable JL2 Signature Mk.2 stereo amp, a push-pull triode putting out 100Wpc. Cables were by AudioQuest, and the preamp was the CAT Ultimate SL1 Mk.II. The source was the Esoteric combo of P-03 SACD/CD transport and D-03 DAC -- the top of the line. B&W's Signature Diamond is a 89dB/8 ohm, two-way vented speaker. The sound they made was glorious playing Jascha Heifetz's silky performance of the Beethoven Violin Concerto from a JVC XRCD. I could hear a great breath of bass from the bass violins, strong impact from the timpani, and the fine, woody, inner-chamber sound of Heifetz's instrument. The system was articulate and refined but also very powerful and dynamic. I spent about a half hour in the room and noticed that it was SRO most of the time, with an extra dozen listeners lined up against the rear and sidewalls. When I later spoke with Ken Stevens of CAT once I'd returned Stateside, he remarked that it was interesting that a distributor of mainstream hi-fi equipment such as Audiogamma would show up at Top with his amp and preamp. Recalling the system sound, it certainly made sense to me.
One of the most spacious rooms at Top Audio was Sonus Faber's, which took up a corner of one of the basement halls. When I walked through the velvet entry curtains, I saw that nearly every seat was filled, both in the listening section in front of the speakers and in the schmooze-circle lounge in the corner. In the latter I met marketing director Giovanni Menato, who told me that Sonus Faber was launching the new Auditor M speaker (€3700/pair; stands, €750) to replace the Cremona Auditor minimonitor. Set about 14' apart, the 88dB/8ohm Auditor Ms were toed-in at a severe angle, creating a deep soundstage with good bass that breathed warmth into the room. The drivers are a Scan-Speak ring-radiator tweeter and a SEAS midrange specially modified with fiberboard in the mounts. With a Tracy Chapman LP playing, the sound was mellow and sweet, with snaky, liquid guitar work, ringing marimbas, and resonant panpipes. I could hear the piper's breath attack as he blew across the reeds. The analog system consisted of a Linn Sondek LP12 turntable and Sumiko Peer cartridge. The electronics were an Audio Research Reference 3 preamp, Nagra CD player, and Viola Bravo Reference monoblocks. Cables were Oracle by MIT. I asked that they play my reference CD, Mozart's Mass in C Minor; the Kyrie had a coherent choir sound, good bass, and an overall soft presentation, allowing the crystalline quality of soprano soloist Natalie Dessay's voice to be foremost. A supremely intelligent system and a fine speaker, I thought. I hope to hear the Auditor M again very soon, perhaps in my own system.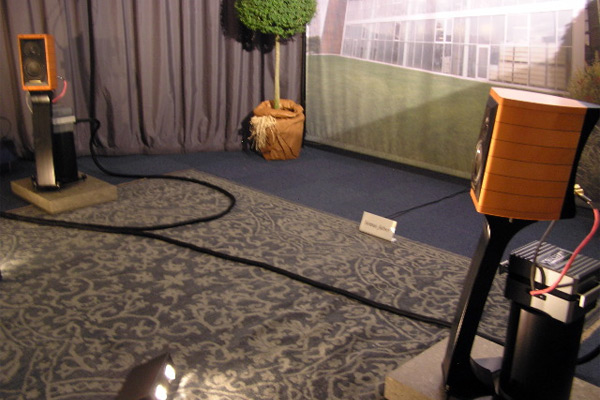 Sonus Faber's new Auditor M speakers (€3700/pair; stands, €750).
Near the end of Day One, I drifted around to an attractive corner display put together by Sound and Music, an Italian retailer from the Tuscan walled city of Lucca. This was on the floor called "The Aquarium," a more or less open basement hall bustling with visitors. There was a lot of noise in the S&M corner: clerks huddled with customers while others dashed around behind the display counter, yelling out catalog numbers and artists' names. I heard "Coal-Trane-nah!" and "Tosca di EMI!" shouted over the din and general hubbub. S&M was selling XRCDs galore, along with vintage and audiophile reissues of classic LPs. I browsed for more than half an hour and I picked up two JVC XRCDs for €35 apiece, and seriously considered LPs by Speakers Corner, Chesky, and vintage Impulse! and Deutsche Grammophon discs for €40 each. These prices were higher than in the States, but the breadth and concentration of quality in rock, jazz, and classical was astonishing. I noticed many Japanese vinyl pressings of classic jazz recordings by Miles Davis, Coal-Trane-nah, Thelonious Monk, and Bill Evans. My first thought was I want them all. My second was Few will fit in my suitcase. My third was What if I'm caught at customs?
My last stop of Day One was in the middle of the Aquarium and its various audio grottos. There was so much to take in, and by this time I was so overloaded with information, that I almost missed one of the finest demos of the show: Docet-Lector, with Chario Synergetics and Ultrasone Headphones. Their hi-fi station was like a classy enoteca (wine bar), a haven in the midst of the crazed Aquarium. Suddenly, it made perfect sense for electronics makers to show with a headphone company -- the steady thrash of show and audio noise vanished when I put on a set of phones and pushed Play on the sparkling black-Lucite face of a Lector 7T CD player (€2799). The new Zum preamp and headphone amp (€699) and the 7T sounded fabulous through the Ultrasone cans -- dynamic and analog-like (no kidding!). Too many digital sources compress the peak dynamics, whitening or making lean the timbral richnesses of a recording. Not so the Lector 7T -- in fact, quite the opposite. The Lector's sound was harmonically saturated, tonally accurate, drawn entirely within the recognizable character lines of each instrument and voice, and dynamic to beat the band. The new Zum preamp-headamp has five inputs, a bipolar output, monolithic chips, and capacitance of 20,000µF. I played my fave, Mozart's Mass in C Minor, and listened through three tracks -- Kyrie through Laudamus Dei -- completely rapt amid the milling crowds of audio bustle, taking it all in like a generous glass of darkly sweet (and expensive) Brunello. And so ended my first day at Top Audio.
...Garrett Hongo
garretth@ultraaudio.com

All contents copyright Schneider Publishing Inc., all rights reserved.
Any reproduction, without permission, is prohibited.
Ultra Audio is part of the SoundStage! Network.
A world of websites and publications for audio, video, music, and movie enthusiasts.