April 15, 2006
Searching for the Extreme: Le Festival Son & Image 2006
The Canadian chat groups were aflutter with tales of angst about this year's Le Festival Son & Image, held March 24-26 at the Sheraton in Montreal, Quebec. This year saw the advent of a change in format, from the almost entirely audiophile focus of previous shows to a new theme: convergence. The horror!
It turns out that a vein of snobbish exclusivity is deep within some audiophiles. Audio is a passionate hobby for these people, and they don't want to see it sullied by the MP3 set. While some might say that two-channel audio is dying a slow death due to its irrelevance to this connected world, these fussbudgets would rather help shovel dirt onto the coffin than see iPod accessories displayed in the same hotel as high-end-audio gear.
Such an elitist attitude is just plain crazy. Wouldn't you want all those non-audiophiles who've paid their cash to see the iPod stuff wander up to the audiophile section of Son & Image and maybe get hooked on good sound? This hobby needs fresh blood, even if that blood is so fresh it's in baggy pants, carrying a skateboard, and wearing a baseball cap backwards.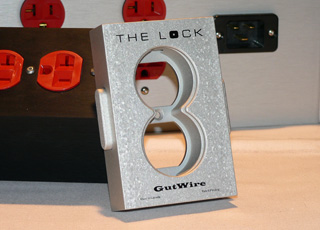 GutWire's The Lock
Sure enough, many more youngsters wandered the halls this year, trying not to look intimidated by the highest of high-end audio gear and standing in front of the speakers while others were attempting to listen. And, man oh man, was there ever some serious equipment at this show! While some of the regular exhibitors were MIA, there seemed to be a significant number of new brands represented, and there were many more people than last year to ogle them. Perhaps it was the newcomers who added a feeling of revitalization to Son & Image, or perhaps it was simply the change in venue. Whatever the reason, there was a feeling of excitement in the air.
My first stop was the Justice Audio bazaar, to say howdy to the GutWire chaps. They were showing their new outlet cover, The Lock. This overbuilt, billet-aluminum item replaces a standard duplex receptacle cover and puts a death grip on the power cord, releasing it only when the side-mounted button is pushed. While fairly expensive at $800 (all prices in Canadian dollars unless otherwise stated), it may well find some applications outside of audio. Think medical life-support devices, or anything else you really don't want to come unplugged.
Next, I made a beeline for the Fidelio Audio room, as it's always a crowd-pleaser and fills up early. I thought I'd take advantage of my early start to get in some pre-opening listening. As always, Fidelio was using Verity speakers, this time the Parsifal Ovations ($24,000/pair). In a departure from the norm, Fidelio decided to replace their usual tube amplification with solid-state, but I guess they couldn't bring themselves to stray from the Nagra fold. They were using the sexy PMA amplifiers and PLP preamp. An Esoteric UX-1 ($16,000) was the all-in-one universal disc spinner, and Shunyata Research performed power-filtration duties. It was swell getting to listen to Nemesis [Fidelio FACD017], Fidelio's new recording of percussion music that was put to tape in a great big church. We first listened to the SACD via the Esoteric, then compared that to the master tape via a Nagra reel-to-reel deck. While the SACD of this astoundingly dynamic, tuneful disc sounded fabulous, the master tape provided small but worthwhile improvements in sound quality.
Faithful messenger boy that I am, after spending far too long in the Fidelio room, I tracked down the Aurum Acoustics folks to make arrangements for delivery of their one-brand system to Doug Schneider for review. While I was there, I gave a good, long listen to this very interesting and ambitious system. While not cheap, the Aurum Acoustics system delivers cutting-edge, top-to-bottom performance and synergy. The Integris Active 300B speaker system ($30,000) comes complete with amplifiers, speakers and cabling. The Integris CDP is an integrated CD player and preamp ($12,000). The same wire is used both inside and outside the speakers. Things get even more interesting on the amplification side, where you get separate channels for the bass, midrange, and treble, with a separate tube driving each midrange and tweeter, and solid-state power for the woofers. Is that clever or what? On top of it all, the sound was triode-sweet without being cloying, the bass was solid-state tight, and it all integrated perfectly.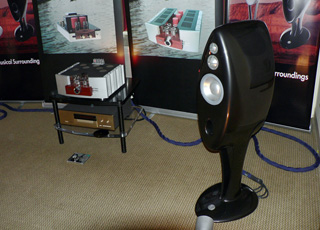 Musical Surroundings room
It's always a pleasure to run into Garth Leerer of Musical Surroundings, as we share a sense of humor that relies heavily on irony. This year Garth was showing the Vivid Audio B1 loudspeakers ($13,500/pair USD), driven by a Pathos Audio Logos integrated amplifier ($4795 USD), which was notable for its sweet yet very detailed sound. Also notable was the B1s' almost complete freedom from cabinet resonances, which no doubt contributed to their excellent imaging and rock-solid soundstage. Very impressive.
As if the Aurum Acoustics system weren't enough, Doug Schneider had also asked me to coordinate the shipment of the new Focus Audio Master 2.5 speaker system ($21,200/pair) to him. While visiting the Focus Audio suite to do just that, I sat down to hear what it must be like to be Doug. Although the room was a little small for this formidable loudspeaker (many other exhibitors trying to show large speakers also suffered from this malady), the attributes of the Focus sound were evident: a signature sweetness and extension in the upper treble complementing a full, rich and tight bottom end (hey, just like me!). Providing motivation for these chunky obelisks were Vitus Audio SM-101 mono power amplifiers ($56,000/pair) and a Vitus Audio SL-100 line-stage preamp ($32,500). A Weiss Medea/Jason CD combo rounded out the system.
That spot of business over with, I dropped into the Music Direct room to take a peek at the different finishes of the Mobile Fidelity OML-2 speakers, a pair of which I'm proud to own. I'm particularly partial to the piano walnut finish, which is absolutely stunning, and a stark-raving bargain at $2799/pair USD. On the way out I picked up Music Direct's juicy catalog.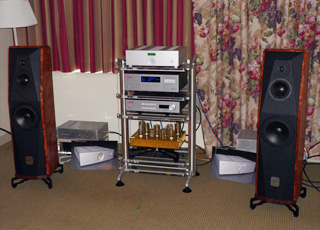 Berning/Stillpoints room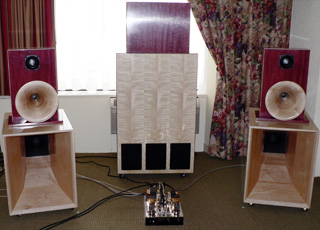 Edgarhorn room
I was sucked into the Berning/Stillpoints room by some of the grooviest a cappella gospel music I've ever heard. Sometimes you've just got to follow your feet. After looking around, I saw tubed monoblocks and a preamp, all three labeled "Experimental." I asked David Berning if he knew the source of these strange-looking components. "It's a Swedish company," he replied. Actually the basis for an upcoming Berning product, the "Experimental" preamp employs a tube switching power supply. Berning asked me to be sure to mention that the cosmetics aren't finished yet. Prototypes or not, the system sounded fantastic. Speakers were Peak Consult Empresses ($25,000/pair USD), while the "Experimental" preamp and EMM Labs CDSC/DCC2 source components rested on a Stillpoints ESS component stand. Things got more interesting when Berning pulled out his tube-powered watch, which, he told me, keeps great time. I backed slowly out of the door so as not to startle him.
Who would have thought that Dr. Bruce Edgar was a bass-head? Parked right between his Edgarhorn Titan II speakers ($9500-$15,000/pair USD, depending on finish) and blocking most of the light from the window was his over-the-top Seismic subwoofer ($3500-$7000 USD, depending on finish), whose 18" driver is buried within its cavernous interior. When I asked the good doctor how low it went and how hard it hit, he explained that he'd love to demonstrate it for me, but unfortunately had no organ music. I'd just left the Fidelio room with Les Sept Paroles du Christ [Fidelio FACD008], one of their big-ass pipe-organ recordings, and offered to help out. Dr. Edgar was skeptical, but when I assured him that this disc did indeed have sub-20Hz signals on it, he gleefully threw it into the player and cranked it way the heck up. My stars, did that thing go low. I could almost sense the latent power of the 18" driver; when it pulled back on the upstroke, the air in the room got kinda thin. Backing up this system was ModWright's new SWL 9.0SE preamp with a statement-level onboard phono stage ($3995 USD) and a Cyrus Brenneman Cavalier amplifier ($3500 USD).
Those crazy, fun-loving Danes from GamuT were scaring the natives with the good-for-a-laugh "Explosions Polka" from Telarc's Ein Straussfest. This was another room where they weren't afraid to crank it up to realistic levels. GamuT's L-5 speakers ($11,000/pair USD) were being driven by the DI-150 integrated amplifier (also $11,000 USD), fed in turn by a CD-3 CD player ($6000 USD). There was an obvious synergy at work; the sound was clean and coherent even at elevated levels.
Sound Fusion is one busy company. Not content with developing two rather radical-looking speakers, this Toronto firm has taken it upon themselves to integrate ribbon tweeters, active crossovers, and NuForce amplification into their designs. Their fully active Hyperion ($20,000/pair, also available as the passive Nova) sounded forceful and nuanced driven by -- well, nothing; it's fully active. There was, however, a preamplifier -- an Audio Research LS26. In addition to speakers, Sound Fusion has developed a full line of interesting resonance-reduction accessories, including a multi-level component rack that looks most promising. Watch for more from this innovative company.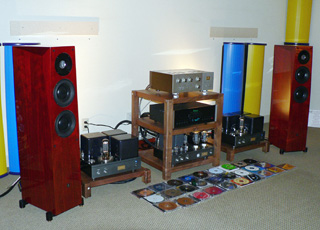 Air Tight room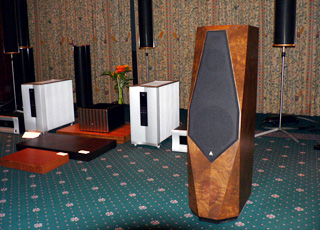 Coupe de Foudre room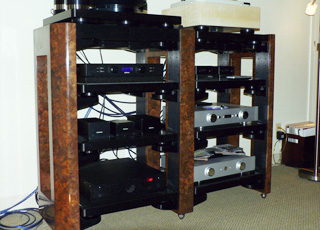 HRS's MXR-1921-4V rack in the Tri-Cell room
The first thing that caught my eye in the Air Tight room was a chunky little Isoclean isolation transformer all dished out in golden livery. This wasn't such a big deal, really, but when I looked more closely I noticed that the output connectors were almost completely exposed. I sure hope no one came in with an inquisitive, wet-nosed dog. Hey, is that UL approved? I took a further look around and, noting no other hazards, sat down to have a listen. The JAS Audio Oscar speakers were being driven to good effect by a pair of delicious-looking Air Tight ATM-211 Special Edition single-ended monoblocks ($16,000/pair). These amps' physical air of sophistication was complemented by an absolutely gorgeous midrange.
In my opinion, two rooms tied for best sound at Le Festival Son & Image. Coupe de Foudre, a local Montreal shop, had assembled a statement-level system around Avalon Acoustics Eidolon Diamond speakers ($48,000/pair) and VTL Siegfried tube monoblocks ($50,000/pair, but you'd better hurry as they're going up in price). The sources alternated between a Michell Orbe turntable ($6700) replete with Graham Phantom tonearm and Benz Ebony cartridge, and a dCS P-8i CD/SACD spinner ($15,500). All signals were routed through a VTL TL-7.5 Reference preamp ($16,000), and connections were via copious quantities of Nordost Valhalla cable. Coupe de Foudre was one of very few exhibitors that had made an effort to optimize with room treatments, installing a significant number of Tube Traps about the place. Perhaps this detail gave them an edge, as there was a feeling of coherence to the sound that many other systems sorely lacked. While it was always possible to hear the potential of other systems, music was presented in the Coupe de Foudre room with utter relaxation and grace. Ella Fitzgerald singing "Set 'em Up, Joe," from Let No Man Write My Epitaph, sounded like melted butter, with depth, dimensionality, and presence to rival the best I've heard.
Running neck and neck with the Coupe de Foudre setup was a system in one of Tri-Cell's rooms comprising Brinkmann electronics, LithoPhon speakers, and an immense HRS equipment rack. The source and electronics were all Brinkmann: LaGrange turntable, tonearm, and cartridge ($19,300 USD for the whole shebang), Fein phono stage ($2250 USD), Marconi preamp ($11,050 USD), and Mono power amplifiers ($13,750/pair USD). The whole kit and caboodle rested on an HRS MXR-1921-4V double-width rack ($14,950 USD) that looked very downtown in its natty walnut-burl finish. The LithoPhon Miracle loudspeaker ($17,000/pair USD) is a narrow, graceful floorstander with a ribbon tweeter and three conventional drivers. Together, this Teutonic assemblage presented music in an effortless, extended manner. The bass was tight yet rich, succeeding in a manner that eluded many other demonstrators who shared the same type of dead-on-square rooms. The highs were grainless, and the sound was perfectly integrated from top to bottom.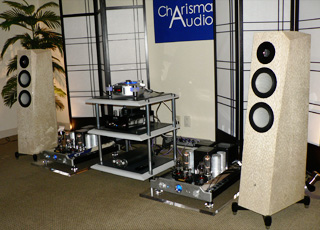 Charisma Audio room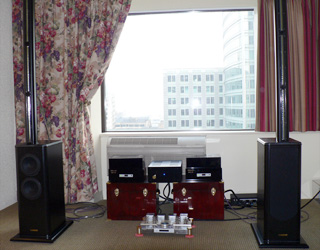 Newform Research room
Right about now the value-for-money crowd is starting to get that glazed look in their eyes, so perhaps it's time to mention the Charisma Audio room. The JAS Audio Odin floorstanding speaker isn't exactly inexpensive at $7799/pair, but it uses Accuton ceramic midrange and bass drivers and a ribbon tweeter. When you factor in the bird's-eye maple veneer, it starts to look like an even better deal. Oh dear -- now I have to tell you about the Audio Space Reference-One monoblocks, which retail for $23,999/pair. These use two 845 tubes and two 300B tubes in each channel and looked topnotch. The matching Audio Space PRE-2 ($3499) is a bit more affordable and also looks the business.
But there was some actual affordable Ultra-class gear on hand! Newform Research was showing their R645 V3 ribbon line-array speaker ($3484/pair delivered!), which features a 45" ribbon midrange/tweeter and two 7" Scan-Speak midrange/bass drivers. There is a notable coherence to the sound of Newform speakers, a trait immediately recognizable whether they're powered by a cheap Panasonic receiver (as in years past) or by the newly revitalized Dolan electronics (as at the 2006 show). Newform has made some significant changes to their cabinets, most notably going from a ported to a sealed enclosure. This is a lot of speaker for a reasonable price.
Although the curmudgeons out there might disagree, I thought the 2006 Festival Son & Image was a great success, the new theme of convergence adding an exciting dimension that seems to have invigorated the entire event. The Sheraton is a swank hotel for sure, and while the cuboid dimensions of some of its rooms proved troublesome, exhibitors will undoubtedly rise to the challenge next year. Come one, come all -- don't miss Le Festival Son & Image 2007, and feel free to bring your iPod and skateboard.
...Jason Thorpe
jason@ultraaudio.com

All contents copyright Schneider Publishing Inc., all rights reserved.
Any reproduction, without permission, is prohibited.
Ultra Audio is part of the SoundStage! Network.
A world of websites and publications for audio, video, music, and movie enthusiasts.