March 15, 2006
"Show a Little Faith, There's Magic in the Night"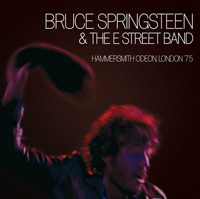 On September 6, 1975, Bruce Springsteen's third album was released. I stood in line at the record store with about 25 other people and watched as the manager opened the just-delivered boxes of a record that had been much delayed and eagerly anticipated. As we filed past him, the manager was a little cranky. You'd think he'd have been happy to be moving so much product, but he'd had to endure weeks of questions about the release date of Born to Run. Springsteen hadn't yet conquered the world -- he had yet to make even a dent on the West Coast -- but in the Northeastern US, he was already a star.
A few weeks later, on October 27, he appeared on the covers of both Time and Newsweek. That public-relations coup confirmed what many of us already knew: Bruce Springsteen was among the most exciting, charismatic, and prodigiously talented musicians rock'n'roll had ever produced. It wasn't just his records, as good as they were, that filled us with that conviction. It was his live performances. Springsteen brought together his gifts as singer, songwriter, guitarist, and bandleader to create rock'n'roll shows that were as exhilarating as revival meetings. After you saw Bruce Springsteen and the E Street Band in concert, most of the other rock bands you'd seen on arena tours in the 1970s seemed like impostors.
If you weren't there to catch Springsteen during the two years before he broke nationally, the concert DVD included with Born to Run: 30th Anniversary Edition will bring you close to what it was like. If you were, it will take you back, and perhaps surprise you at how emotional the trip is. Hammersmith Odeon, London '75 is murky and badly lit, but for me, that seemed to only reinforce the feeling that I was looking back at Springsteen's and my own distant past. It was the first time he and his band had played outside the US, and Springsteen says in the liner notes that his initial feeling about the November 18, 1975 show was that "we hadn't played that well." He quickly notes, "I was wrong."
Boy, was he ever. The band in Hammersmith Odeon, London '75 (which Sony has also released as a two-CD set) had been touring relentlessly for two years, playing nearly every night, and had developed an almost telepathic level of communication. At the smallest gesture from Springsteen, they drop from full volume to a whisper, falling in behind him to help develop the narrative possibilities of such songs as "The E Street Shuffle" and "Lost in the Flood," both of which appear here in complete reworkings of their original versions. The level of improvisational skill the band members display on "Kitty's Back" shows beyond a doubt that there may not have been another band anywhere, in any genre of music, that could have touched them at that moment.
Up to that point, Springsteen and the E Street Band had been playing small theaters, college gyms, and clubs like Max's Kansas City in New York and the Main Point in Philadelphia. His show was scaled to those smaller rooms -- it was more personal and intimate than the arena and stadium shows he would play in the years to come. After Born to Run, Springsteen played to fans. In the two years leading up to it, he was still converting people. As his popularity grew, he could fill Philadelphia's Tower Theater (a little over 3000 people), as he did in fall 1974, but two weeks before that he'd played the cafeteria at Dickinson College.
There had been 400 people at the Dickinson gig, and my sister and I were among them. I confirmed the date, October 20, 1974, on a terrific website, Brucebase, which contains details of nearly every one of the singer's performances. The site says there was an opening band, but I remember Springsteen and the E Street taking the stage promptly at 8 p.m., with little fanfare and no opener. My sister and I had talked to people before the show as we waited for the doors to open, and most of them had heard only one or two songs on the college's radio station. We positioned ourselves near the front of the makeshift stage, which was about 2' above the floor, and were soon surrounded by other fans, some of whom were seeing Springsteen for the third or fourth time.
He wore jeans with the cuffs rolled up, black boots, the black leather jacket he later sported on the cover of Born to Run, and a gray Triumph motorcycle T-shirt. Most rock bands in 1974 wore platform shoes, eye makeup, and lamé suits. A few piano chords led to the intro of "Incident on 57th Street," from The Wild, the Innocent, and the E Street Shuffle, Springsteen's second LP. On the album, the song was arranged for the full band, but here he sang it accompanied only by piano, with occasional notes from Sukie Lahav on violin. I remember feeling a wave of emotion as he sang the chorus:
Goodnight, it's alright, Jane
Now let them black boys in to light the soul flame,
We may find it out on the street tonight, baby,
Or we may walk until the daylight, maybe.
Most of the people in the audience hadn't heard "Incident" before, but Springsteen was confident they would accept it in this simple, straightforward presentation. His trust in himself and in his audience was one of the most striking things about those early concerts. He gave himself over completely to them, putting his emotions out in front of them without hesitation.
A high point of the evening was a completely reimagined version of "New York City Serenade" that ran well over 15 minutes. This interpretation had the melodic beauty, emotional strength, and shameless sentimentality of the original, but Springsteen lingered over and expanded on the story's details as he let it play out. The band, responding to a movement from the singer or a change in his voice, balanced loud and soft passages to create a tremendous sense of pace and drama. The song received a resounding ovation.
Springsteen and the band played for more than two hours. They rocked hard on "Rosalita" and "It's Hard to be a Saint in the City," they were soulful on "Spirit in the Night," and they showed off their chops on "Kitty's Back." I don't think more than 100 of the people in that cafeteria knew who Springsteen was before that evening, but everyone there left a fan. I'd never seen a performer take an audience and bring it over to him so fully. What we all sensed in him was his absolute faith in rock'n'roll -- his conviction that it could fill you with hope and lift you far enough above your everyday concerns that you could cut them loose for a while. It may sound naïve to say it, but the way Springsteen threw himself into that belief seemed heroic.
Two weeks later, on November 1 and 2, the Tower Theater in Philadelphia was packed with Springsteen fans from Philly, South Jersey, and northern Delaware. In the previous two years he'd played colleges and small clubs throughout the Philadelphia area. He also enjoyed heavy support and airplay from WMMR, then the city's premier rock station, and from radio stations at the area's many colleges. I remember that the show was longer than the one he'd given at Dickinson, but Springsteen and the band played with the same fire and conviction for 3000 of the faithful as they had 12 days earlier for a bunch of kids who didn't know much about them.
When the band rolled into Kutztown State College in July 1975 for two nights at the college's gymnasium, the room was again filled with fans, and we all knew we were probably seeing the last of the small concerts Springsteen and the E Street Band would play. Rolling Stone and other magazines were writing about the phenomenal power of his shows and about the new album he was working on. Brucebase tells the story, which I paraphrase: Springsteen and the band were now playing larger venues, and they were almost always headlining. Other bands didn't want to follow them. By the time Born to Run hit the stores, fans throughout the East and into the Midwest had already been introduced to some of its songs and were primed for it.
The last Springsteen concert I attended was in October 1976. The two nights he was booked at the Spectrum in Philadelphia opened his first arena tour. It was a terrific show -- Springsteen always throws himself headlong into his performances -- but it felt different. I realized that evening that rock'n'roll loses something when it moves from clubs and theaters to arenas and stadiums. As strong and heartfelt as the music was, it simply wasn't possible for Springsteen to reach each person in the Spectrum the way he had in a college cafeteria or a hall like the Tower. He was also in the process of moving to the next stage in his career, which would focus on tighter songwriting and more precise storytelling.
As Wings for Wheels, a DVD documentary included with the new Born to Run set, makes clear, Springsteen would demand more economy and less showiness from the E Street Band as he moved from the romanticism of his early material to the realistic characterizations on which he would soon base most of his songs. I doubt Springsteen would have enjoyed the longevity he has if he'd continued to make records like The Wild, the Innocent, and the E Street Shuffle or even Born to Run. Darkness on the Edge of Town, The River, and the albums that followed wrestled with the problems of real people in ways the sprawling, wordy songs on his early albums couldn't.
For years, I assumed that Springsteen turned his back on some of the music he performed at such length and with such passion in his early concerts because he was embarrassed about it or felt he had moved beyond it. I now think his choice to stop performing those songs was his gift to us who were there at the beginning. I feel fortunate to have been among those early fans who saw Springsteen and the E Street Band when they were young, hungry, and eager to prove themselves. Watching Hammersmith Odeon, London '75, I was overcome by feelings of nostalgia and a little sadness as I remembered how young we all were, how thin, how full of hope for ourselves and for the music we loved.
Over the years, Bruce Springsteen has remained true to himself and to his music in a world in which rock'n'roll is often corporate and cynical. With Hammersmith Odeon, London '75 he lets us return to our past, to remember that some of it was as good as we thought it was. Now we can share his generosity with others.
...Joseph Taylor
josepht@ultraaudio.com

All contents copyright Schneider Publishing Inc., all rights reserved.
Any reproduction, without permission, is prohibited.
Ultra Audio is part of the SoundStage! Network.
A world of websites and publications for audio, video, music, and movie enthusiasts.