October 15, 2005

Searching for the Extreme: Rocky Mountain Audio Fest 2005 Audio dealers that offer two-channel systems have become somewhat scarce, so a show geared toward stereo enthusiasts like Denver's Rocky Mountain Audio Fest is a very valuable event. Held at the Marriott Denver Tech Center, the Rocky Mountain Audio Fest 2005 (hereafter RMAF) was substantially cheaper for exhibitors than CES or the Home Entertainment show (what was known as the Stereophile show), and it brought together a wide assortment of equipment people could see, hear, and feel all under one roof. In effect, the show temporarily became the country's largest hi-fi store, with designers, dealers, and other experts occupying all available 113 exhibit rooms to explain their wares. Although I haven't heard how many people attended, it looked like attendance was greater than for the first Fest in 2004.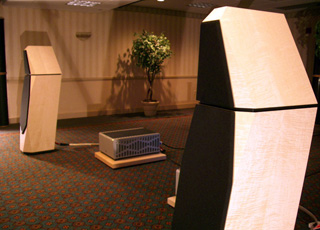 Avalon Isis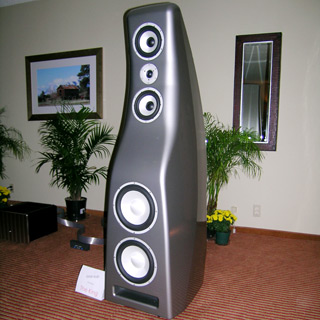 Hansen King
One thing became clear as I visited room after room: A good small system in a moderately sized room can sound much more direct and musically compelling than a megabuck system in a huge room. I understand dealers and manufacturers wanting to show off their statement pieces, and most of them sounded quite nice, but some of them were in rooms so large that the speakers were too distant from the audience, probably adversely affecting the direct-to-reflected sound ratio.
Denver's Audio Unlimited treated us to the first appearance of Avalon's Isis speakers ($58,000 per pair), which were the most expensive speaker I saw. A $6500 McIntosh MCD1000 transport provided the source, driving an assortment of Boulder electronics ($37,000 2020 DAC, $37,000 2010 preamp, and $72,000-per-pair 2050 mono amps) all sitting on $6800 Finite-Elemente racks. Assorted TARA Labs and Omega cables connected everything, while a $2195 Running Springs Audio Jacko assured clean power. In spite of being situated in a cavernous room, the Isis managed to make my compilation CD sound more like music than any speaker I've heard.
One of the most striking speakers at the show was the Hansen King ($55,000 per pair). Molded from Hansen Composite Matrix material (poured into a mold rather than cut or machined), the 63"-high King glistened in a glossy silver paint. Driven by Jeff Rowland's gorgeous electronics, the Hansen speakers filled the large exhibit room with an effortless, dynamic sound that displayed good detail and timbral accuracy.
On a physically smaller but no less musically interesting scale, Nola (formerly Alón) showed its Viper Reference speakers ($12,000 per pair), which would comfortably fit in a normal room. Driven by deHavilland's $3995 Mercury 2 preamp and $7995 845G SET 30W mono amps, the Vipers produced strong bass and good detail in the standard-sized hotel room, which approximated a typical listening room. The always-musical Prana Cosmos-series wire ($3350 for one-meter interconnects, $3750 for a one-meter pair of speaker cables) aided and abetted the natural sound produced by the system. A Metronome Technologies CD transport and C20 Signature DAC provided pristine signals to the Mercury 2 preamp.
A visit to the Audio Federation room (my favorite last year) showed another expensive speaker, the Marten Design Coltrane ($50,000 per pair), driven by 22W Audio Note Kegon SET mono amplifiers ($49,000 per pair). The Coltranes again produced exquisitely detailed, musically involving sound from their Accuton drivers (including the diamond tweeter). The supporting cast included a $14,390 Lamm L2 Reference preamp; $7900 EMM Labs CDSD transport and $11,500 DCC2 DAC; cables from Nordost, Stealth, and Jorma Design; power cords and distributors from Shunyata Research and Nordost; and striking $3100 Rix Rax and $6000 Acoustic Dreams equipment racks.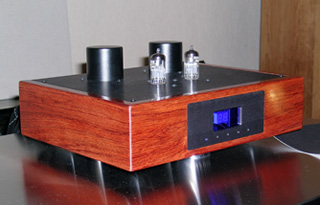 Welborne Labs Ultrapath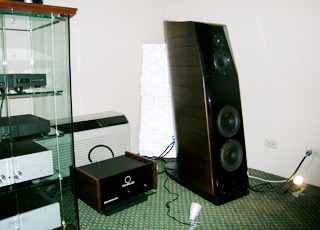 Usher 8871 Dancer 2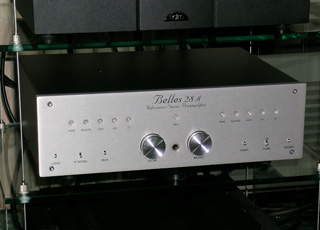 Belles 28A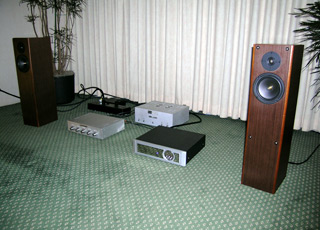 Audiopax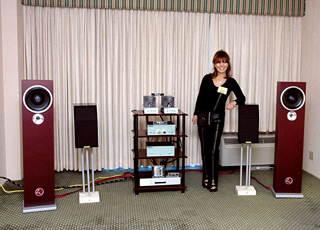 Song Audio
The RMAF was not limited to high-priced gear. Welborne Labs showed the newly revised Ultrapath preamp, available in kit form for only $1200 or assembled for $1700. Using 6GM8 tubes (originally used for car radios) and a battery power supply, this line-stage preamp includes Ron Welborne's new discreet-stepped remote volume control. Welborne's new Terraplane 300B SET monoblock amps ($1700 kit, $2500 assembled per pair) drove a $10,600 T-3 Project speaker from Classic Audio Reproductions very convincingly.
Usher Audio partnered with dealer Blue Marble Audio to show the new 8871 Dancer 2 speakers ($10,900 per pair). The 8871's beryllium tweeter delivered scads of musical detail, but was not spotlighted as high-tech tweeters sometimes are. Two 8" woofers delivered Usher's trademark crushing bass response. Sources were the imposing $3000 Opera Droplet CD player and the $2995 Naim CD5X with $995 Flatcap 2 external power supply. The elegant-looking $4495 Belles 28A full-function solid-state preamp, making its first-ever appearance, and $3995 Belles 350A Reference amp drove the speakers effortlessly. Cabling was Blue Marble Audio's $495-per-meter-pair interconnects, $795-eight-foot-pair speaker cables, and $485-per-six-foot-length power cords. The throngs of listeners always present attested to the system's musical sound. Equipment was housed in a striking $2200 glass-and-wood Schroers and Schroers Archos equipment rack that avoided the industrial look of many racks. An $1800, a Silver Circle Audio power conditioner supplied clean AC.
Audiopax introduced the new modestly sized and priced L350 speaker, which retails for $3490 per pair. Using a 1" tweeter and a 6" midrange/woofer of Audiopax's own design, these small floorstanders generated amazing bass, and were very clear and detailed. Driven by Audiopax's $4990 Model 5 preamp and $8990 Model 98 power amp, the sound was beautiful and dynamic. There wasn't anything visual to distinguish the L350s from dozens of other well-finished two-way floorstanders, but when I listened to them, they floored me with their huge soundstage. This was probably my favorite room at the show, and featured components that would fit in a smallish space.
Dan Wright's ModWright room featured his highly regarded $2200 SWL 9.0SE preamp. Dan's modified Denon 3910 universal audio/video player with the PS 9.0 power supply and Universal Truth modifications ($2800 to modify your player, $3995 including a new player) were playing through the preamp and driving Channel Islands Audio's $2300 DM·200 mono amplifiers to produce great sound through Penaudio Serenade speakers ($9000 per pair). These slender floorstanding speakers use a side-firing woofer to generate some very robust bass, and the overall sound was open and spacious. Power was via a World Power Power Wing conditioner and Jorma Design power cords.
Variety is the spice of an audio show. In this spirit, Song Audio alternated between two rather different speakers: Zu Cable Druid Mk 4s ($2800 per pair) and their own Type II Silk DM minimonitors ($2000 per pair). Electronics were Song Audio's SA-1 two-piece preamp ($4500) and SA-300 MB monoblocks ($4900 per pair), or the SA-34B integrated amp ($1900), all of which SoundStage! Network readers know well. I saw one of the mono amps up close in the elevator after the show ended. It's a looker.
Although several dealers lamented the difficulty of getting deep bass in the standard-sized hotel rooms, Keith Herron showed it was possible. His prototype ESP-1 speakers and prototype S118 subwoofers (price not set for either) produced room-shaking bass from a well-recorded piece (the Rutter Requiem?). Of course, Herron electronics drove the system: $4995 VTSP-2 vacuum-tube preamp, $4995 HL-1 solid-state preamp, four $6850-per-pair M1 mono power amps, and a $3650 prototype VTPH-2 tube phono preamp. A Herron-modified Philips universal audio/video player was the digital source.
Gershman Acoustics Black Swan speakers ($30,000 per pair) didn't have any trouble producing deep bass, either. The Black Swan's Separate Sub Alignment System (SSAS) mounted its woofer in a separate enclosure, with the midrange and tweeter in their own enclosure straddling the woofer. This allowed the two modules to be time aligned for more coherent sound, but prevented woofer vibrations from interfering with the mids and highs. The result? A robust, dynamic, powerful sound that still provided plenty of detail. The beautiful gloss-black finish would look good in any home, and because the Black Swan is only four feet high, it would actually fit in a real house. The demo also used Red Rock Audio Renaissance amps and a ModWright SWL 9.0 preamp.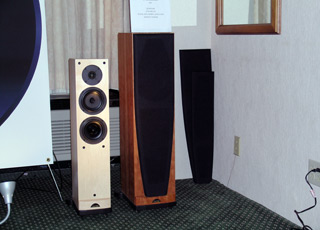 Spendor S5 (left) and S8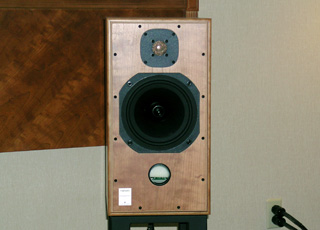 Harbeth HL-Compact 7ES-2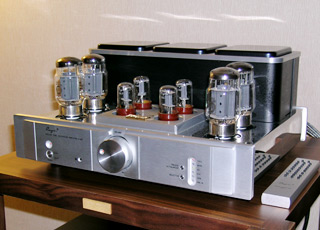 Cayin A-88T
Spendor Audio proved that good sound doesn't need to cost a lot. Spendor S8 ($2999 per pair) and S5 ($1799 per pair) speakers, driven by a Talk Electronics $1299 1.2 CD player and $1299 2.1 integrated amplifier, were demonstrating why the company's speakers get such good reviews. The natural, coherent sound was quite inviting. Talk Electronics (which also sounded very good last year with another brand of speakers) will bring out a completely new line of equipment, still very value-oriented, at CES.
Dealer Colorado Audiophile Sound and Design had a wide variety of systems on display, including one that used Conrad-Johnson's CT5 preamp ($7500). While many of the systems sounded great, I was most impressed by one that was fronted by a DCS P8i SACD player ($14,000) connected to a $7500 Nagra PLL preamp. Two Kharma MP-150 monoblock amps were used. The tiny size of these $3400 belied their 150W output. Best of all, they sounded great driving Kharma's $21,000-per-pair 3.2FE speakers, while the self-powered $9500 Kharma CESB subwoofer augmented the bass and was refreshingly well integrated. Kharma cables connected everything, and the system produced an extended, relaxed, and oh-so-natural sound that invited long listening.
In the Acoustic Sounds room, Chinese manufacturer Cayin Audio showed some attractively finished components with real-world price tags. The $1795 SCD-50T SACD player uses a tube output stage. It sounded very dynamic and tuneful in the display system, which included the fantastic $2695-per-pair Harbeth HL-Compact 7ES-2 speakers. Cayin's A-88T integrated amplifier ($1995 with 6550 tubes, $1895 with KT-88s) provided lots of power, and its remote control let you switch between ultralinear and sweeter-sounding triode output. Cayin's $695 SWES-3A stand uses magnets to levitate and isolate equipment up to 50 pounds. Several other amps were also on display, most featuring a far better finish than most Chinese electronics.
Moondance Audio and Second Sound assembled a system consisting of a $2500 Cary 308T CD player, McIntosh C2200 preamp, and $4000 McIntosh MC252 power amp driving $10,000-per-pair MartinLogan Summit speakers. The sound was clear and dynamic, although the bass seemed a little muddy compared to the electrostatic midrange and highs. The room could have been a factor; several exhibitors had trouble getting good bass without using subwoofers.
The Chapter Audio room used $9200-per-pair Eben X-Centric speakers on purpose-designed $1800 stands, with a $5900 Electrocompaniet EMC1 CD player serving as the source. Chapter Audio's $9000 Preface preamp and $12,500 Chapter 2+ power amp (400Wpc) drove the Ebens spectacularly. My notes start out: "Holy cow -- where did the distortion go?" It seemed like several layers of grunge were removed, leaving a clear, extremely natural and moving sound. My notes continue: "The Ebens image like crazy."
Perhaps the largest speaker system at the show was found in dealer Audio Limits's room: the $48000-per-pair Genesis 201 with separate towers for midrange/highs and bass, including a 1600W bass amplifier. A $17,000 Reimyo CDP-777 served as digital source (a $16,000 Redpoint turntable with a $3900 Triplanar tonearm was also available), with electronics from FM Acoustics: $12,000 122 Mk 2 phono preamp, $39,000 255 preamp, and, most imposing, an $87,000 611X amplifier for the midrange/tweeter towers. Because FM Acoustics components have proprietary connectors, the company's cables were also in use. This system generated the most three-dimensional soundstage I've ever heard, with lots of musically natural detail. For normal-sized rooms, a $15,000-per-pair Genesis 5.2 speaker system was shown, driven by a $3495 Genesis I-60 integrated amp, with a $4995 Blue Note Stibbert CD player. Speaker cables were Crystal Cable's $1950 CrystalSpeak Micros, while interconnects were Crystal Cable's $975-per-meter CrystalConnects.
The ListenUp dealership had two interesting rooms. The smaller featured $3499 Sonus Faber Domus Concerto two-way speakers driven by Musical Fidelity's A5-series components: $2500 CD player with tube output section, $2500 preamp, and $3000 250Wpc amplifier. A variety of AudioQuest cables were used. Bass was surprisingly deep and well defined, and the speakers played much louder than my ears wanted to hear. Otherwise, the sound was classic Sonus Faber: totally musical and engaging.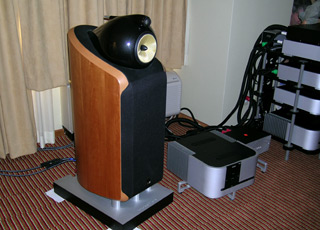 B&W/Classé
In the other ListenUp room, B&W's $20,000-per-pair 800D speakers were driven by an impressive array of Classé Audio equipment: a $6500 CDP-300 universal player, a $7000 CP-700 preamp, and $5000-each CA-M400 400W mono amplifiers. An assortment of AudioQuest cables connected the components and speakers, while a $2000 Shunyata Hydra Model-8 power conditioner and $1000 Shunyata Python power cords provided necessary power. When Eva Cassidy's "Fields of Gold" was played, the sound was clear, clean, and direct. It revealed that the original recording was not audiophile-grade, but that didn't stop it from sounding very moving.
Art Audio demonstrated its usual assortment of gleaming tube beauties, using a $7500 Einstein CD player to drive the $4500 Gill Alana line-stage preamp, which in turn drove the $7500 Carissa Signature SET amplifier (with remote volume control). Speakers were the remarkable $995-each Cabasse Riva monitors; a pair of $1995-each Cabasse Largo subwoofers shook the room with clean, well-integrated bass. Crystal Cable's CrystalSpeak speaker cables and CrystalConnect interconnects tethered everything to produce a powerful, clear, dynamic sound that connected you directly to the music. This system would be a good fit for an average-sized room.
Dealer Alpen Audio showed a spectacular system with $20,990-per-pair Avantgarde Duo 2.2 speakers and Thor electronics -- a $9990 TA-1000 preamp, $10,990-per-pair TPA-30 Mk II amps, and a now-discontinued DC-1000 DAC. A $7950 Oracle CD-2000 CD turntable spun CDs. The equipment was supported by a $3999 Grand Prix Audio Monaco four-shelf audio rack, while the amps rested on $900 Black Diamond Racing BDR-1 stands. As you'd expect from a large horn system, the sound was lightning-quick, very detailed, and produced a good soundstage.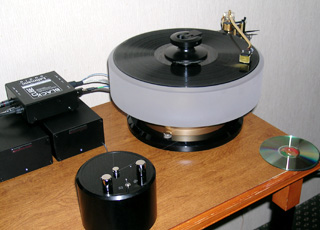 Eurolab Premier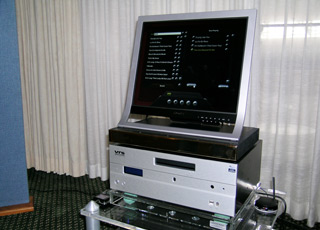 VRS Revelation Music Server
Omega Speaker Systems and Hudson Audio Imports have teamed up at previous shows to provide really good sound at very reasonable prices, and this year they were joined by Red Wine Audio, a company that manufactures electronics and modifies existing electronics. One of Red Wine's modifications is for the iPod, costing only $199. It adds audiophile features (like Black Gate capacitors) to the world's most popular portable music server to deliver much better sound. The system playing when I visited the room consisted of a $2350 Eurolab Premier turntable with a $1890 Moerch DP-6 Precision tonearm carrying a $2850 Allaerts MC-1B cartridge. I liked the Eurolab 'table because it's a plinthless design that doesn't require much shelf space but still seems well engineered. A Lehman Audio $3000 Silver Cube Phono amplified the cartridge output and fed it to Red Wine Audio's $799 Lotus passive preamplifier and then to the $1199 battery-powered 6Wpc Lotus stereo amplifier. Both tiny Lotus products were positioned on a matching $225 Lotus platform. All this played through Omega's newly designed Aperiodic 8 single-driver speakers, which sell for $1249 per pair with ebony or teak finishes, or $1199 per pair in laminate finish. The system looked and sounded very musical, equaling much more expensive systems on display.
A couple of new technological developments impressed me. The VRS Revelation Music Studio is a device known as a music server. It records your CDs onto a huge (600 gigabyte) hard drive at up to 24-bit/192kHz resolution and compiles a music library. By accessing online music databases through its built-in WiFi or Ethernet connections, it downloads track and performer information, along with album cover art -- just like you do when you rip a CD to your computer's hard drive (but with far better quality). Then you can review what's stored in your library and compile a list of selections you want to hear. A 12" monitor and wireless keyboard let you see and control the Revelation's operations. If you wish, you can burn a compilation CD from any playlist you develop, but at full CD quality, not the iPod-quality MP3 files (although the Music Studio will convert the CD-quality source to MP3 files if you wish). A really easy-to-understand opening menu takes you to the different functions you can perform.
Here's a way to store up to 1000 CDs in high-quality uncompressed form, play them back through internal high-quality DACs, and never have to hunt for the CD box nor return it to the cabinet when you're done with it. If you fill up the internal drive, additional external drives with a terabyte (1000 gigabytes) of storage each can be added. When updates to capabilities are developed, many can be installed by downloading them over the Internet and installing them on your Revelation, avoiding the need to send the Revelation back to the manufacturer. Although VRS is still putting finishing touches on the final software details, the company expects to have a finished product available no later than January 2006. I can imagine this is how we'll all listen to digital music ten years from now, getting new high-resolution music online and downloading it directly to a music server like the Revelation.
Another even more radical bit of technology was shown by Eminent Technology's Bruce Thigpen. His new Infrasonic Woofer literally shook everyone who saw and heard it. Looking like a fan, with rotating blades whose pitch is modulated by the audio signal to produce sound, the Infrasonic Woofer has a frequency response of 40Hz to DC. That's right, DC. And that's plus or minus 3dB, with response up 3dB at 3Hz. Bruce wowed us with a demo starting with a very clean 40Hz and moving down in steps to 5Hz (at 110dB!), where the walls of the hotel room started to flex in and out. He stopped at that point rather than inflict structural damage on the hotel. Why bother with such low frequencies? Bruce told us that some movie soundtracks actually contain frequencies below 10Hz, so if you really want to impress your friends, the $12,900 subwoofer should do the job. It requires that you to mount it in a wall or ceiling. I don't even want to think about the version shown for a car audio system.
The Weird Science award goes to Audio Magic's Quantum Physics Passive Noise Absorber. These looked like small paperback-book-sized boxes that you place on top of electronics, cables, or anything else in your system. The Noise Absorbers are claimed to absorb RFI and EMI energy and convert it to heat, thereby shielding the component on which they're placed. There are two models: a $225 external unit and a smaller $75 internal unit for inside the chassis. Although my snake-oil detector was all primed to go off, Audio Magic did a quick demo where they removed two Noise Absorbers from the DAC in the system. I immediately thought I heard a bit of additional grunge in the sound, and when the Absorbers were put back on top of the DAC, the sound was definitely cleaner. So the Noise Absorber appears to work, although I have no inkling why. Audio Magic is an appropriately named company to handle this product. In all fairness, the Noise Absorber is just a small part of Audio Magic's product line; the company also manufactures some very interesting power conditioners, cables, and a DAC as its primary business.
There's no way to cover 113 rooms in the 24 hours available to me, so I've undoubtedly left out many interesting products and systems. RMAF 2005 was a high-energy event that everyone seemed to enjoy. The hi-fi industry needs affordable regional shows like this as an alternative to traditional brick-and-mortar retail outlets. It's a great opportunity to mingle with other audiophiles, dealers, manufacturers, and writers, and I hope to do it again next year.
...Vade Forrester
vade@ultraaudio.com

All contents copyright Schneider Publishing Inc., all rights reserved.
Any reproduction, without permission, is prohibited.
Ultra Audio is part of the SoundStage! Network.
A world of websites and publications for audio, video, music, and movie enthusiasts.