January 6-9, 2005
Searching for the Extreme: CES 2005
I'm a firm believer in the idea of better living through modern chemistry. Science has graced us with the ability to relieve minor ailments via the simple action of swallowing a pill, and I'm all for it! My wife, who's a pharmacist, is vehemently opposed to this casual attitude toward medication. Pharmacists hate taking drugs, as they are intimately aware of the biological mechanisms at work and it scares them witless. I, on the other hand, operate from a state of blissful ignorance in this regard, so the concept of slamming down a big, butt-kicking antihistamine to help me sleep is a no-brainer. My 1:00 AM arrival in Las Vegas necessitated 6mg of Chlorpheniramine Maleate (along with a $4.99 steak and a couple of dollar Heinekens at Terrible's Hotel & Casino) in order to overcome my post-flight anxiety and force me horizontal.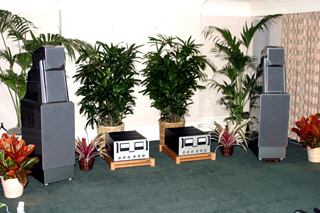 Wilson Audio and Audio Research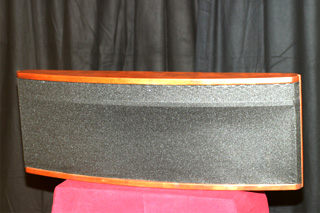 Magnepan
As you might expect, Thursday morning was a bit fuzzy, what with only four hours sleep and the aforementioned self-medication, so I sallied forth into the Las Vegas morning and let my ears do the walking, drawing me into whatever room sounded, well, Ultra good.
I ended up wandering into three rooms that used Wilson Audio MAXX Series 2 speakers ($44,900 per pair), and the shootout winner, in my opinion, was that hosted by Audio Research. Used with the new Reference 3 preamplifier ($9995), Reference 300 Mk II mono amplifiers ($14,995 each) and CD3 Mk II CD player ($5495), the MAXX 2s startled me in that effortless, dynamic way that only Wilson Audio speakers seem to be able to do. Marc Mickelson's compilation CD-R, which contains a broad spectrum of scorching blues and delicate folk, sounded eerily lifelike and corporeal. The MAXX 2 is a very serious speaker, and one that deserves every compliment it receives.
Upon our exit from the ARC room, we were corralled by Wendell Diller of Magnepan, who was just itching to show us the prototype of the new CC20.1 center-channel speaker, which reproduced a Ray Charles/Willie Nelson duet with absolutely spooky realism. In my near catatonic state of advanced jet lag, I was almost convinced that we were seated in a concert hall with the two performers standing behind the potted plants, which were placed beside the speakers. The CC20.1 is a true-ribbon design, and although it will cost more when ready than the MG1.6/QR speakers Wendell was demonstrating it with, it fit in so well sonically with this system that I could see many owners stepping up to the multichannel plate and enhancing their systems with this distinctive product.
Next thing I knew, I was facing down a monstrous rack of frighteningly expensive Esoteric gear. This expansive array of silver equipment, precision-decorated with blue LEDs, commanded instant respect, which was further engendered by its nervous-looking corps of Japanese babysitters.
Esoteric bills the P-01 transport ($25,000) and D-01 D/A converter ($12,500 each, and you need two for stereo!) as "the world's finest digital system," and if that's not extreme enough, you can add up to three more D/A converters and use the assortment for multichannel sound. If you end up doing this, please do me a favor and let me drop 'round for a listen. The system was wired up with Esoteric's own cables, which fed Esoteric A-70 monoblock amplifiers ($17,000 per pair) and ended up driving Dynaudio Evidence Temptation speakers. The upshot of this rather high-cost high-end system was music that projected forth with an almost unbelievably crisp and detailed sound that at the same time was very easy to listen to loud.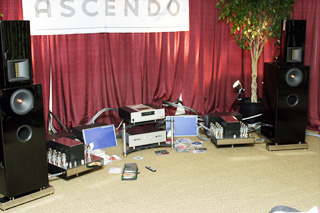 Ascendo, CAT and Reimyo
It was truly a pleasure to get another shot at listening to Ascendo speakers, as the loss of the System Z-f3s, which I reviewed on SoundStage! earlier this year, cut me to the bone. This year Ascendo was showing the System M ($36,000 per pair), which is the System Z-f3's big brother. Powered by the 150Wpc CAT JL-3 triode monoblocks ($30,000 per pair), a CAT Ultimate Mk II preamplifier ($7000) and a Reimyo CDP-777 CD player ($14,000), the System M trounced my memories of the System Z-f3. There's something about the Ascendo ribbon tweeter that makes extended listening at elevated levels an absolute treat. The tubed CAT electronics no doubt contributed to the stunning midrange, which was incredibly detailed and yet remained creamy and edge-free at the same time.
There was more -- plenty more -- with good sound being the rule rather than the exception. You'll read about it here, if I survive another steak at Terrible's, which is where I'm heading even as I write this. More tomorrow.
...Jason Thorpe
jason@ultraaudio.com
** ** **
If you visit Vegas frequently, you probably stay in posh, sightly resorts such as Bally's, the Mirage or Mandalay Bay. You probably don't even know that places such as the Key Largo, SoundStage!'s CES HQ, even exist.
While I quite like the Key Largo's homeliness, seasoned Vegasistas such as my mother would be horrified. I think Tom Waits is in the room across the hall, and I could swear that was Charles Bukowski drunk in his underwear wandering the halls last night. It serves us just fine, though. The rooms are clean, and I find the honesty and lack of pretension quite endearing. In fact, it's so endearing that they're tearing the place down to make space for some new luxury condos.
T.H.E Show takes place at the St. Tropez, which I'd wager is on the chopping block as well based on its somewhat cheesy condition. Some of the more quirky exhibits are housed here, along with some absolutely stellar sound and cutting-edge products.
VRS Audio Systems debuted one of the most notable new products I've seen so far. The Gold media server ($7500) is the type of component that may very well slip under the very limited bandwidth of most audiophiles' radar, and that would be a crying shame. The Gold is a standalone unit that resembles a fairly large, exceptionally well-made CD player. In operation it's diabolically clever. You simply insert your CD or DVD, and The Gold automatically rips the disc onto one of its two 225-gigabyte hard drives. Once this is done, you can employ its proprietary graphical user interface, via the supplied flat-screen monitor and cordless keyboard and mouse, to catalog and order your music and video into relevant playlists. The Gold provides access to custom bit-rate and sample-rate conversions, from 44.1kHz to 196kHz, and 16 right through to 32 bits. The Gold allows you to burn custom CDs from your collection, and even connects to the Internet to provide access to the CDDB database for track-naming capabilities. Add in multi-room capability, and you've got the ultimate Swiss Army knife of audio products. While it might not sound that interesting to the tube-and-vinyl crowd, I definitely see this as a component of the future.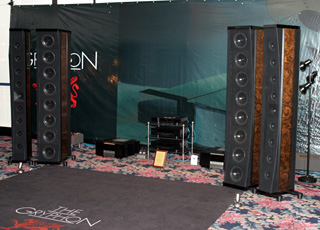 Gryphon
My first attempt to have a listen to Gryphon's over-the-top Enterprise-class system didn't go well. This is a seriously large installation, and on my arrival they'd just blown the house fuses after someone switched on a coffee maker, which was the last straw for the overtaxed circuits in this far-from-up-to-date building. This was no ordinary coffee maker -- it was an 800 watt industrial-sized unit. There's about 730 watts in a horsepower, so that's over one horsepower devoted solely to the production of caffeine. Only in America.
Did I mention that it was a large system? How's this for size? The separate bass towers -- over six and a half feet tall -- of the Poseidon Reference Standard Loudspeaker System ($130,000 per pair) each have their own 1.3-horsepower amplifier built in. The Antileon Signature monoblock amplifiers ($50,000 per pair) each put out 0.3 horsepower, increasing to 1.3 horsepower when driving a 1-ohm load. Please keep in mind that all this power is produced in pure class A. The rest of the system consisted of the Sonata Allegro preamplifier ($15,000) and Mikado CD player ($12,400). That tallies up to $257,400 without cables, but Al Jones, Gryphon's representative, assured me that they'd throw them in if I purchased the entire system.
What does $207,400 sound like? Remember Michelle Pfeiffer in The Fabulous Baker Boys? I thought her voice in this movie was most seductive, and absolutely delightful. Imagine her as a stereo system -- this was what I heard. There was a feeling of effortless power combined with the ability to draw you in and seduce you. I have to admit that I would have no difficulties living with this system.
Globe Audio Marketing had a seriously good-sounding room this year. Jody Hickson and Co. were showing speakers from Wiener Lautsprecher Manufaktur (wow -- that just rolls off the tongue!) which are having their North American debut here at CES. The Gran Viola high-efficiency loudspeaker ($12,061) uses a System Control VI active crossover ($6192) between the woofers and tweeters, which allowed Globe Audio to use two pairs of Audio Aero Prestige monoblocks ($20,000 per pair) for biamping. A passive crossover is also available for a lower cost. WLM's Duo 18 subwoofer ($6940) was powered by an Audio Aero TransTrac amplifier ($5500), which is the first tube-powered subwoofer amp I've ever seen. Audio Aero's Prestige SACD player ($14,000) was doing source and preamp duties, and doing them very well, I might add. The system sounded seductive and relaxing, with a very nice sense of space.
I'll end it today by mentioning what is the best in-wall speaker that I've yet heard. Joseph Audio was debuting The Insider, which is a two-way speaker with a 7" aluminum woofer and a 1" silk-dome tweeter. The Insider features Joseph Audio's proprietary Infinite Slope crossover, which, Jeff Joseph claims, makes the speaker insensitive to changes in the listener's position, both horizontal and vertical. While the speakers were mounted on the wall rather than in it -- this is a hotel room, after all -- the sound was very coherent and full of detail while retaining a most endearing warmth.
I'm back at the luxurious Key Largo right now, and after I've finished typing up this report, I'd head down for a little blackjack, but unfortunately they've carted the tables away, no doubt in anticipation of the impending destruction. C'est la vie. See you tomorrow.
...Jason Thorpe
jason@ultraaudio.com
** ** **
There's a lot to cover today, ladies and gents, so there won't be any preamble. Here we go….
LP playback had a good showing at CES this year, with many rooms spinning vinyl and giving digital a run for its money -- SACD, DVD-A or otherwise.
The vote for newest/oldest/retro product has to go to Continuum Audio Labs, which debuted the Caliburn turntable ($50,000 -- gulp!). It combines modern, cutting-edge design with a delightful Happy Days, jukebox vibe. The Caliburn features a chassis comprising a distinctive combination of stainless steel and ceramic alloy, and massive alloy and ceramic bearing. The tonearm, named The Cobra for obvious reasons, is made from hemp fibers, and is custom-made and -designed from the ground up. Playing through Wavac amplification and Stereovox cables, the Continuum portrayed an intensely convincing version of Kind of Blue. Good stuff from a relatively new company.
The Pluto Audio 12a turntable ($30,000) jumped out at me the second I set foot in the highendaudio.com room. Making a point in aluminum, carbon fiber, stainless steel and ceramic compounds, the 12a, complete with custom-made tonearm, features a diamond bearing, which promises a long life and little friction. The 12a's platter is machined from solid stainless steel, with a carbon surface for an LP interface. The 12a also features a battery power supply for complete freedom from mains pollution.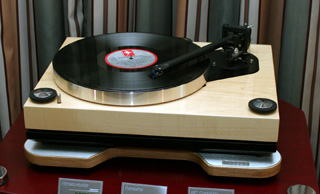 Roksan
Being a Xerxes man from way back, I stopped by to say hello to my Roksan homies. Much to my pleasure, I noted that there's a new addition to our family -- the Xerxes 20 ($4000) was on display, complete with the DX2 power supply and the TMS upgrade, which adds an additional layer of isolation via another plinth. The 20 designation is in celebration of the end of the second decade of the Xerxes's production. That's one heck of a run for a record player. Here's to ten more years! The new plinth is available as an upgrade to certain Xerxes 'tables of yore, depending on vintage, and will cost approximately $500 depending on the exchange rate when prices are finalized.
The show's most top-heavy system was belting out tunes in the Mobile Fidelity/Music Direct room. The system was fronting an Avid Acutus Chrome 'table ($12,000), complete with SME V arm ($3995) and Dynavector Te Kaitora Rua cartridge ($2550), while driving a pair of MoFi OML-2 speakers ($999). I know that it's cheating a bit, as they were playing a 45rpm version of Patricia Barber's Café Blue, which would likely sound fantastic through a close-and-play, but the sound quality of this odd little system was absolutely fantastic. This experience supports a pet theory of mine, which states that a good source and electronics can make modest speakers sound superb.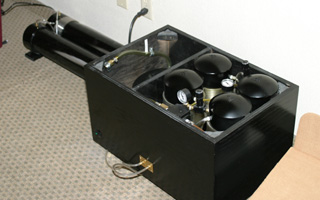 Walker Audio
I finally got to meet Lloyd Walker of Walker Audio. Lloyd's a stalwart fixture, verging on a legend, in this industry, and his Proscenium Gold turntable ($32,500) is one of the most stunningly designed 'tables that I've yet seen or heard. This turntable has been covered to death in numerous show reports and reviews, but I got to have a look behind the scenes at the supporting pneumatic infrastructure. Since this is an air-bearing affair, there's a significant rigmarole involved in compressing, drying, filtering, storing and smoothing the air, which is supplied to both the platter and the tonearm. Because both the 'arm and platter require different air pressures, there are different storage chambers for both reservoirs. The most fascinating aspect of this architecture was the two matching surge tanks, which are each tuned to a different frequency (yes, this is possible) and join back up into a common air line. At this juncture, the air pulses are out of phase from each other, so they combine to produce a single noiseless flow of air. Think about that -- it's essentially balanced air!
Convenience and vinyl aren't words that are often used in the same sentence. There's far too much flipping, aligning, measuring, weighing, cleaning and licking involved in LP playback to even begin to describe how much work it takes to maintain an analog rig. Audio Research is doing its best to help. The PH5 phono preamp ($1995) comes with a remote control with which you can adjust cartridge loading from the comfort of your listening position. Kudos to ARC for doing its part to make the world a better place for analog lovers.
Although I wanted to keep this report all analog, I have to make mention of several rooms that simply knocked me out. Since they're covered in the regular SoundStage! Network show report, I'll refrain from mentioning the equipment roster item by item.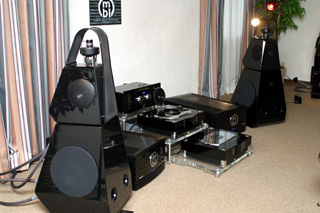 MBL
First off is the MBL room, which is, in my opinion, the most outlandish and, well, alien of all the exhibits I had the opportunity to visit. The Radialstrahler 111E speakers ($24,600 per pair) are the zenith of the highest-of-high end audio, and when driven -- or punished -- by mono amplifiers that remind me of a cross between a locomotive and a bank vault, they produce sound that is more a visceral assault than a prissy little listening session. At the aggressively loud levels of the MBL demo, I could feel each drum whack as a physical impact on my kidneys. Although this seems to paint the picture of an experience that you may want to avoid, the sense of space, depth of imaging, and treble delicacy that these speakers can render make for an auditory treat that I insist you seek out should you get the chance.
Next up is Ascendo, another German speaker manufacturer, and one whose product I've had the pleasure of reviewing. The System M loudspeakers ($36,000 per pair) sounded better each day I heard them. Driven by CAT amplification, the System M speakers were possessed of an organic integrity that I just loved. Although this system was housed in a fairly large room, it energized the space with a well-focused bottom end and a smooth top that imaged superbly.
Finally, we stopped back into Magnepan's room on the final day to listen to the surround system arrayed there after Wendell Diller had inserted the MG3.6/R speakers in place of the MG1.6/QRs there previously. Although I said earlier that the '1.6es worked exceptionally well with the CC20.1 center-channel, the sound was much improved with the larger main speakers. There was a better sense of continuity across the front of the soundstage, with increased image solidity and a crisper midrange with more of a feeling of snap and speed. For me, this was perhaps the best multichannel-music demonstration of the show.
My stars, I'm tired. I doubt that you feel much sympathy for me, forced to listen to the best audio in the world for days at a stretch, but please do your best, as it was hard work! Just about every room had truffles, chocolates, or expensive cheeses that I felt pressured to eat, and these foodstuffs, combined with the libations that I was forced to consume in the efforts to maintain friendly press relations have played hob with my constitution. It'll take me days to recover. Feel my pain.
...Jason Thorpe
jason@ultraaudio.com

All contents copyright Schneider Publishing Inc., all rights reserved.
Any reproduction, without permission, is prohibited.
Ultra Audio is part of the SoundStage! Network.
A world of websites and publications for audio, video, music, and movie enthusiasts.