November 15, 2004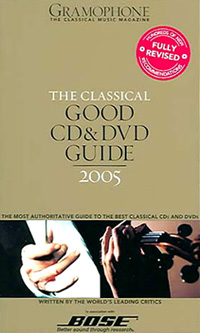 Gramophone's The Classical Good CD and DVD Guide 2005
Gramophone describes itself as "The Classical Music Magazine." It's been around since 1923, and it's very good at what it does. A casual skimming of this plump, soft-cover handbook reminds us that its contributors are among the most elegant and informative in the business. I can think of no better guide for the audiophile who wants to broaden his or her understanding and enjoyment of classical music.
But how to say that this will be good for you without sounding condescending? A few audiophiles of my acquaintance have forgotten more about art music than I'll ever know. Others prefer to play recordings -- any recordings -- that make their hardware shine. We know them by their answer to the question "What kind of music do you like?" "Oh, every kind." Clay to be molded! Sit here by the campfire, friend.
The guide's 1416 pages go for $24.95 USD. To dwell on the title -- there is no mention of SACD, nor, so far as I can determine, is that medium covered. Indeed, the DVD section, pp. 1316-1360, concentrates on the video aspect. In other words, perhaps to the disappointment of the hardest-bitten among us, the compact disc is the carrier of record.
This is no surprise. Despite efforts to stem or turn the flood, classical music saturated the silver disc early and effortlessly. Scattered exceptions notwithstanding, philovinylites have had to content themselves with issues antedating the "Red Book" tide. Confession: Soon after the CD's appearance as the LP's successor, I took a supportive and therefore contrarian position. I judged it a superior medium and have not since found reason to change my mind. Less controversially, in my scarcely unique opinion, nothing reaching the ears of our little planet's uppermost primates approaches classical music's splendors and grace. The inventory is vast, much of it sublime. And a great deal of it occupies CDs, which promise to prevail, at least for a while.
That brings us to why the Gramophone Guide succeeds. Classical music's in trouble. Blame academe's postmodernist blather, blame the weather, blame what- or whomever, it's true. Gone are the loss leaders and notions of prestige. In terms of what nowadays gets recorded and released, no few major classical labels have taken the corporatist tack. Where once noble executives fought the good fight, the bottom line now prevails. Discs selling in the hundreds or even low thousands -- in the classical niche, a hit -- are deemed not worth the effort. Among the major labels especially, classical reissues outnumber new releases, especially where production costs are high. And yet you'd not guess at a genre's hard times from the variety of recorded performances listed and discussed in the Guide. That most of these discs have been around for a while is no impediment to their purchase, since the Internet has largely replaced bricks-and-mortar record stores, where classical, if it has a presence at all, lurks, overshadowed, in a few scant bins.
In other words, tentative toe-dippers are well and truly served by the Gramophone Guide. In what it embraces, it might well have been titled Everything You Ever Wanted to Know about Classical Music. In addition to a listing of Gramophone's "Records of the Year" from 1977 to 2003, we find "100 Great Recordings" and a "Suggested Basic Library" of around 200 entries in five categories (orchestral, chamber, instrumental, vocal, and opera/operetta/stage works). Best of all are the features: e.g., "Understanding Early Music," "The Baroque Era," "The Classical Era," "The Romantic Era," "Into the Future." The authors, all experts in their fields, paint as detailed a picture of these periods as space permits: "The Romantic Era" occupies four fully packed pages; the others, four-plus. It's an education.
"Drawing on the expertise of the magazine's own 81-year history and an unequalled panel of critics," the body of the Guide proceeds alphabetically, by composer. For further enrichment, a brief biography by the people at The New Grove Dictionary of Music and Musicians begins each composer's segment. The recordings, again arranged by category, are accompanied by unattributed Gramophone reviews, many richly detailed, along with symbols denoting price, recording of historic interest, performance using period instruments, and expressions of enthusiasm that range from Classic through Outstanding, Strongly Recommended, Recommended, and Value for Money.
As to the Guide's emphases, the core repertoire gets the most attention -- Beethoven's string quartets receive more than five pages of coverage. The problems lie with the lesser lights. I've recently developed an affection for the music of Heinrich Biber, a Bohemian composer of the Baroque period. The Biber segment covers a couple of discs I think I'd like to acquire. However, it doesn't mention a superb performance of the composer's best-known collection, the Mystery (or Rosary) Sonatas, for violin with continuo, by violinist Reinhard Goebel and members of Musica Antiqua Köln in a 1991 Deutsche Grammophon Archiv Produktion -- scarcely too recent a release to have made it into print. Like its parent publication, the Guide is Anglocentric; not fatally so, but enough to attract attention. Biber violin performances by Andrew Manze and John Holloway are lavishly praised, as I'm sure they should be.
In keeping with this Anglocentricity, an important British modern, Harrison Birtwhistle, has a place in the Guide, but not Helmut Lachenmann, a similarly significant figure on the modernist music scene. Of the three noted recordings of music by another great contemporary, Sofia Gubaidulina, two are on British labels. I have 16 CDs in my collection devoted exclusively to the Russian's music, one of which is the British EMI the Guide mentions.
Not infrequently, Anglocentricity aligns with wisdom. This from a sidebar of recommended sets of Wagner's Der Ring des Nibelungen: "The first complete cycle is still the most clearly recommendable . . . [conductor Georg Solti] unites the most consistently superb casting with [the English producer] John Culshaw's magnificent recording. A classic of the recording era." Amen. Culshaw's Ring towers among the glories of stereo's Golden Age. American modernist Morton Feldman has his place, but there is no mention of a remarkable collection of CDs from hatART, the Swiss label that has done such an extraordinarily job with the composers of the New York School. I linger at these narrow interests primarily to illustrate that even so excellent a publication as The Classical Good CD and DVD Guide 2005 has its limitations. Still, it will be a rewarding purchase for the collector looking to build a solid classical library, and for the seasoned collector as well.
...Mike Silverton
mikes@ultraaudio.com

All contents copyright Schneider Publishing Inc., all rights reserved.
Any reproduction, without permission, is prohibited.
Ultra Audio is part of the SoundStage! Network.
A world of websites and publications for audio, video, music, and movie enthusiasts.