April 1, 2006
Silverline Audio Technology Grandeur Mk.II Loudspeakers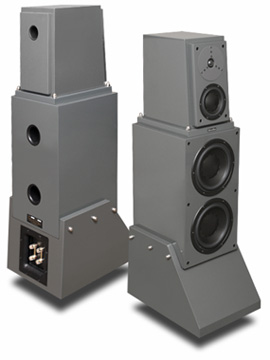 Silverline Audio Technology is a California-based speaker manufacturer probably best known for their Sonata and Sonatina floorstanding loudspeakers -- two stalwart models that have been the heart of the company's product line for years. These speakers, now in their third iterations, continue to garner praise from audiophiles and music lovers worldwide. While the Sonata and Sonatina are traditionally finished in real-wood veneers and are of attractive proportions, they don't scream all-out assault. Alan Yun, the company's owner and designer, saves that designation for a speaker that looks radically different from anything else he builds. And of course, since this is Ultra Audio, what else would we review?
Growing smaller
The original Silverline Grandeur started life in 1999 as a behemoth weighing almost 300 pounds and costing $35,000 USD per pair. It was imposing, to say the least, and its price likely scared off a few would-be owners. The subject of this review is the Mk.II version of the Grandeur, which has grown smaller and less expensive in its maturity. Does that go against audiophile conventional wisdom or what? The Mk.II costs $15,000 per pair and weighs "only" 180 pounds -- two strong, healthy people should find it fairly easy to carry them into a room and set up.
Judging by the photos I saw prior to the review, you wouldn't know that the Grandeur Mk.II differs all that much from the original -- at least without a human being in each shot to give some sense of scale. The Mk.II shares the box-on-box configuration of the original speaker, a design trait shared with many other speaker manufacturers, from Wilson Audio Specialties to Verity Audio to Von Schweikert Audio. The Mk.II's driver complement, too, is similar to the Mk.I's, albeit the woofers are smaller: The bass cabinet houses two 9.5" Dynaudio bass drivers instead of the original's dual 11" monsters. The Mk.II's upper cabinet lacks the Mk.I's ambient tweeter on its rear face, while retaining the same 1.25" Dynaudio Esotar tweeter on the front. The Mk.II's midrange is a 5" cone from Dynaudio's Esotec line, as opposed to the Dynaudio dome in the original. The dimensions of the new speaker, 45H" x 14W" x 19D", will be ideal for most medium to large rooms -- at least visually, they won't overpower the space.
Unlike many of the modular speakers it resembles, which are shipped in pieces, each Grandeur Mk.II arrives triple-boxed in one preassembled unit. The woofer cabinet sits on a large base that houses the crossover components, while the monitor-like top cabinet is separated from the cabinet below by a plinth that seems to somewhat isolate them from each other. The Grandeur Mk.II is made of varying thicknesses of MDF and is fitted with two sets of biwire terminals of excellent quality recessed into the base, along with spikes that can be used to level the speaker.
Although my samples were built to a high standard -- the paint was glossy and the cabinets felt plenty solid -- I noticed that the two plastic ports on the rear of each cabinet moved about a bit. (I'd used one port as a hand-hold when moving the speakers into place; a mistake.) I'd like to see the ports attached with screws instead of merely glued in place; they'd be much more secure that way. The speaker grilles are also quite fragile, with very small plastic pins the only method of attachment. Metal pins would lengthen their life -- important if you remove and reinstall the grilles with any frequency.
Alan Yun rates the Grandeur Mk.II's frequency response at 20Hz to 35kHz, meaning he intends the speaker to be considered "full-range" in the classic sense. (A lower limit of 20Hz has been considered the "full range" seal of approval for as long as I can remember.) He also says the speaker's sensitivity rating is a highish 93.5dB.
The finish options for the Grandeur Mk.IIs are Piano Black and Mountain Gray, both automotive paints that give a high-tech appearance quite different from the wood veneers you see so often. The only owner's manual I received with the Grandeur Mk.II was a few nondescript Xeroxed pages that I suppose are shipped with each unit. For $15,000 per pair, there should be a manual written explicitly for this loudspeaker.
Setup
While in my home, the Silverline Grandeur Mk.IIs enjoyed being paired with some mighty fine electronics. First, an entire Simaudio Moon system: the new Evolution Series W-8 amplifier, P-8 preamplifier, and Andromeda CD player. The second system, my reference electronics, also saw some action: Boulder Amplifiers' 1060 power amplifier and 1010 preamplifier, and an Esoteric UX-3 universal audio/video player. Cabling and power conditioning with both setups was a mixture of Shunyata Research Orion speaker cables and Antares interconnects, along with a Hydra Model-8 line conditioner. The speakers were set up in the Music Vault, in the same locations that my Wilson Audio Alexandria X-2s typically inhabit (details of which can be found in February's "The World's Best Audio System"). I toed in the Grandeur Mk.IIs so that their tweeter axes crossed just behind my head while I was seated in the listening position. This arrangement gave the most detailed treble response and the best imaging.
Sound
I have some experience with Dynaudio's tweeters. Many years ago I owned a pair of EgglestonWorks Rosas, which used the Danish company's Esotar tweeter. For about a year I also had a pair of Dynaudio's own C2 speakers, a newer design that includes the latest version of the venerable Esotar. I've always liked the sound of the Esotar -- never etched, but resolving, powerful, and hearty.
That's exactly what I heard in the Grandeur Mk.II's treble as well -- meaning Alan Yun's design lets the Esotar's strengths shine through uninhibited. During my auditioning the treble was out front and present but never harsh or bright. Listen to the guitar work on Lee Ann Womack's "Why They Call It Falling," from her Greatest Hits CD [MCA 0001883-002], and you'll almost feel the fingers on the strings -- although this is a mainstream pop-country release, the sound is quite clear and detailed. The Grandeur Mk.II was able to resolve every last iota of this track's high-frequency energy without adding artificial air and ambience. In fact, some listeners might feel that its lack of artificial tizz means it doesn't scale the outer realms of frequency response, but I could not find a single recording from which I thought there was something missing that I know is actually on the recording. One thing's for sure: the Grandeur Mk.II's highs shouldn't ever grate on your nerves -- or your ears.
I got quick, punchy bass from the Grandeur Mk.II. Although the speaker is rated to deliver bass down to 20Hz (-3dB), I was able to get clean, audible output to just below 30Hz in my room -- low enough to move my pants legs and thump me in the chest. Although I can hear what people like about minimonitors, I can never get overly excited about them. I've lived with full-range speakers for too many years, and good bass to below 30Hz is a mandatory requirement for me. Although the last 10Hz or so was missing -- the Grandeur Mk.II couldn't plumb the depths like my Wilson Alexandria X-2s -- it did provide that all-important foundation to the music. From bass guitar to kick drum, bass instruments all sounded full and powerful through the Silverlines. The only recording with which I noticed a lack of 20Hz extension was of organist Ales Barta's performance of Bach's Toccata and Fugue in D Minor on SACD [Organ Surround Illusion, Exton OVGY-00001]. The big pipe organ just didn't energize my room with the power needed to entirely transport me to the venue. The Grandeur Mk.IIs did allow me to feel the bass energy, however, and in a smaller room might excite the air even more. I imagine that 95% of the audiophiles reading this review won't need a subwoofer with them.
If you're used to hearing an upfront midrange presentation, you'll be in for a surprise. Over time, I came to realize that the Silverline's midrange performance was a touch laid-back, and this quality seemed exacerbated when coupled with the speaker's full, warm midbass and low frequencies. An example was Blood, Sweat & Tears 3 [MFSL UDSACD 2013]: the vocals in "The Battle" were clear, but just a bit less upfront than I'm used to. As with the treble, I didn't feel that any midrange information was missing, just that it was more relaxed and distant than what I typically hear from my Wilsons. This didn't affect my enjoyment of music either way, but was a presentation just slightly different from what I'd been used to hearing.
Imaging was stable, and the soundstage was appropriately wide and deep. One very pleasant characteristic of the Grandeur Mk.IIs was their wide sweet spot: moving my head almost a foot to either side only slightly affected center imaging -- something I can't say about the Wilson Alexandrias. The Grandeur Mk.II would be ideal for a home-theater surround system in which no center-channel speaker is used. A pair of them could easily accommodate three people on a couch and still give their best.
Whether for home-theater use or because you like to listen to your music loud, the Grandeur Mk.II should well serve your volume needs. On the flyer accompanying the speakers, Alan Yun made reference to "Max Transient Output: 132dB," so on several occasions I pushed them hard. Now, I don't claim to have actually tested that 132dB spec -- short of a ridiculous car-audio demonstration I heard years ago, I don't think I've heard any stereo system reproduce that particular sound pressure level -- but I wanted to see if I could get the Silverline to cry uncle. I couldn't. I listened to Barenaked Ladies' Stunt [CD, Reprise 46963-2], but blasting "One Week" and "It's All Been Done" did nothing to shake the Grandeur Mk.II. The speaker played loud and clean, which alone sets it apart from many of the audiophile-approved speakers on the market today.
There is stiff competition at the Grandeur Mk.II's price of $15,000 per pair. Wilson Audio's Sophia offers a more present, focused sound, spotless build quality, and costs $13,900 per pair (in Series 2 form). You can also get Dynaudio's C2, which, at $12,000 per pair, also plays plenty loud and includes the latest incarnation of the Esotar tweeter. I've lived with both of these contenders, and would have loved to have had them on hand for a shoot-out. Listening to them in addition to the Silverline Grandeur Mk.II will give you a good idea of what you should expect (a lot!) at this price point (a lot!). The Grandeur Mk.II is competitive.
Conclusion
The Silverline Audio Technology Grandeur Mk.II was a thoroughly enjoyable speaker to live with over the couple of months I had a pair of them. The sound was always inviting, never grating, with stable imaging and lots of solid bass. It could play as loud as I wanted, and didn't take up the whole room to do so. While I'd like to see some minor tweaks regarding the owner's manual and such build issues as the grille-attachment pins, the system, taken as a whole, is first-rate. Sometimes good things do come in small(er) packages.
…Jeff Fritz
jeff@ultraaudio.com
Silverline Audio Technology Grandeur Mk.II Loudspeakers
Price: $15,000 USD per pair.
Warranty: One year parts and labor.
Silverline Audio Technology
P.O. Box 30574
Walnut Creek, CA 94598
Phone: (925) 825-3682
Fax: (925) 256-4577
E-mail: sales@silverlineaudio.com
Website: www.silverlineaudio.com

All contents copyright Schneider Publishing Inc., all rights reserved.
Any reproduction, without permission, is prohibited.
Ultra Audio is part of the SoundStage! Network.
A world of websites and publications for audio, video, music, and movie enthusiasts.