March 15, 2008
Gryphon Audio Designs Diablo Integrated Amplifier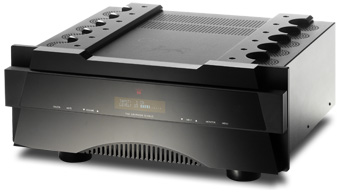 Marketers know that effective product branding can override good sense, and audiophiles are as subject to branding temptations as anyone else. I can attest to this -- I've been captivated by specific audio brands before, and been led down the path to disappointment and enlightenment after experiencing the actual product marketed. Sometimes it lives up to the hype. Sometimes it doesn't.
Gryphon Audio Designs first caught my attention many years ago. I was, for some reason unknown to me at the time, drawn to their doors. Perhaps it was because of their dark, mysterious ways: the company's frontman seemed as if he knew something others didn't; or it might have been that the equipment was massive, made from exotic materials, and visually appealing; or maybe it was because the products were all conjured up in Denmark, in a legendary castle by a prehistoric lake (OK, not really).
But I'd been burned before. All the best branding in the world is for naught if its promises vanish the moment you actually hear, see, and experience a product. In fact, if the product doesn't live up to the level of quality you've been conditioned to expect from the marketing, branding can actually be detrimental. Gryphon is one of the few examples in my experience of a company whose products run in lockstep with their branding. After initially being hooked by Gryphon's marketing, it's only in the last several years that I've come to know that it's their products' performance that is truly worth falling for.
Enter Diablo
The Gryphon Antileon Signature Stereo amplifier ($31,000 USD) and Sonata Allegro preamplifier ($25,000) spent time in my system in early 2004. Those products were, at the time of that review, among Gryphon's top models, and I found their sound quality in many ways revelatory. In fact, I have long regretted not buying the review samples -- I've missed their sublime sound and graceful operation, and much of what I heard from the competition in the ensuing years did not compare to them. Perhaps, on an intellectual level, some came close -- some products I auditioned surpassed the Gryphons in specific ways -- but the way the Antileon Signature and Sonata Allegro made my music connect with me was something I couldn't forget.
I've since encountered further Gryphon products and the company's guiding force, Flemming Rasmussen, at the Munich High End Show each year (the SoundStage! Network's extensive coverage of this event begins in late April). I've come to respect how Gryphon designs its products by subcontracting the engineering to some of Denmark's brightest minds instead of using only in-house staff. Rasmussen, who oversees the overall conceptual design of each product and guides the engineers, admits that this pool of technical talent is one of Denmark's few natural resources.
Although the most tempting way to reacquaint myself with Gryphon would have been via their new flagships, the Mirage preamplifier and Colosseum power amplifier, I decided instead to listen to the Diablo, an entry-level, two-channel integrated amplifier. The Diablo is far more relevant to the majority of audiophiles, particularly those in the US -- at the current exchange rate, the dearest Gryphon pre-power combo will cost you over $70,000. The Diablo, however, costs $14,999 USD -- still a lot of money, but more in keeping with what many serious audiophiles expect to spend on an amp and preamp. The Diablo is built to a price point, but to a high one that many companies would attach only to a flagship, "cost-no-object" model.
The Diablo measures 19"W x 8.25"H x 18"D, weighs about 65 pounds, and is a powerhouse: Gryphon rates it as delivering 250Wpc into 8 ohms, 500Wpc into 4 ohms, and a massive 800Wpc into 2 ohms. This is accomplished with a brute of a power supply featuring a massive Holmgren toroidal transformer and over 112,000µF of energy storage via a bank of 24 4700µF capacitors (as opposed to two or four large cans). The Diablo's reasonable size and high power output make impractical the use of class-A-biased output stages (as are used in the Antileon and Colosseum). Instead, the Diablo is a class-A/B design using Sanken bipolar transistors in its output stage. Everything inside the chassis is neat and clean -- no rat's nest of wires, just clean and efficient circuit-board layout. In fact, the Diablo's dual-mono design uses very little internal wiring; chassis-mounted input/output connectors are standard.
There are several features of note behind the Diablo's very Danish exterior: the 50-step volume control, for instance, which uses Welwyn resistors -- only a couple of these are in the signal path at any given setting -- instead of digital circuits or op-amps. Gryphon has also eschewed the use of any global negative feedback in the Diablo's circuit, which, depending on whom you talk to, will affect the sound quality.
The rear panel is straightforward: There are four single-ended inputs on RCA jacks, as well as a set of balanced (XLR) input connectors and a tape loop. A set of stereo subwoofer outputs (on RCA jacks) sends a full-range signal to your subwoofer(s) to be processed, so subwoofer-satellite systems are easily accommodated. You'll also find an IEC input for the power cord, and a set of extremely robust speaker binding posts of Gryphon's own, proprietary design (they will appear on all new Gryphon amplifiers).
I loved operating the Diablo. The remote control is a slim wand that allows the user to control volume and input setting, as well as standby and power on. The real charm, though, is the Diablo's front panel, a combination of the brushed aluminum and black acrylic that have long been part of Gryphon designs. An inset bar of acrylic contains a readout section that tells the user which input is selected, the volume setting, etc. There are also facilities through a menu function to name inputs, set the startup and maximum volume settings, control the display brightness, and assign a home-theater passthrough. Although it doesn't look like it, the acrylic bar is also a touch-sensitive screen that allows the user to change function, input, or volume with minimal effort and maximal cool factor.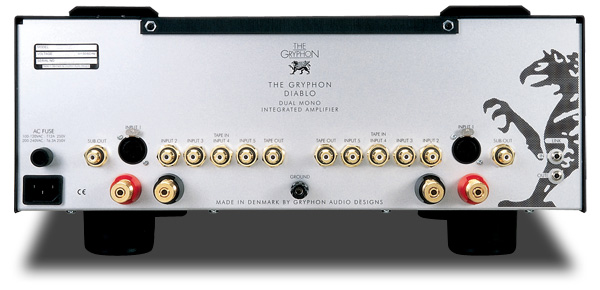 System
My reference system for this review consisted of an Esoteric UX3-SE DVD-AV/SACD/CD player and, alternatively, an Apple MacBook connected via a USB cable to a Stello DA220 Mk.II DAC. Cables and power conditioning were all from Shunyata Research: Antares interconnects, Orion speaker cables, and Hydra V-Ray power conditioner. Speakers were the Rockport Technologies Altairs.
Sound
As hard as I might have initially fallen for its looks, the Gryphon Diablo got the most important thing right: the sound. My first impressions of the Diablo right out of the box, with very little warmup, were overwhelmingly positive. Although I immediately recognized the house sound I've come to expect of Gryphon products -- a warmish, "analog" feel and a huge soundstage -- there were a few things that pleasantly surprised me.
Perhaps the Diablo's "entry-level" status in the Gryphon line had led me to expect a more compromised sound. Instead, what I first noticed was one of the hardest things for any audio product to get right: the textural nuances in music were not glossed over but expertly rendered. When I listened to Aaron Neville's cover of Bob Dylan's "Don't Fall Apart On Me Tonight," from The Grand Tour [CD, A&M 5408152], I was impressed at the way the Diablo handled Neville's voice. All of the singer's little inflections were presented unmarred, indicating that the Diablo was capable of capturing the tone and texture that really help define an artist.
The Diablo was able to do this no matter what type of music I listened to. Whether it was the subtle differences between drum skins or the varied nature of different cymbals, the Gryphon was a master at portraying the variances that can occur within a single voice or instrument. If you're not hearing this quality from your recordings, then perhaps something in your system is homogenizing these sounds -- and if that's true, then the lifeblood is being sucked out of your music. If the Diablo deviated from neutrality at all, it was toward just a touch of warmth in the presence region -- a not unwelcome characteristic that will serve most music fitly.
Pumping 500Wpc into the Rockport Altairs' 4-ohm load, the Diablo sounded propulsive yet natural, powerful yet relaxed. All Gryphon products seem to share an ability to sound very much like the best analog reproduction equipment; in other words, they portray music as all of a piece, as something that naturally and organically develops and decays, without any of the digital glare that can haunt some lesser gear. At the same time, every Gryphon amplifier I've heard has been a powerful, solid-state beast that will control a pair of speakers with enough headroom left over to give its owner confidence in its ability to deal with anything thrown at it.
The Diablo was no exception. A fine example of this occurred while I was listening to Acoustic Alchemy's Positive Thinking [CD, GRP 9907]. This clean, energetic jazz mix includes strings mixed with a heavy helping of percussion. The group's trademark is an excellent sense of timing and propulsion that can sound harsh through the wrong system, but smooth and vibrant through the best gear. The Gryphon Diablo let through all of this album's detail, rhythm, and timing unharmed, without any of the nasties that can cause listener fatigue over the long haul.
I've always marveled at how the larger Gryphon amps can cast such a huge, expansive soundstage. Though the Diablo didn't quite match the Antileon Signature and Sonata Allegro in that respect, it came closer than I would have thought. The width and depth of the soundstage on "El Cuarto de Tula," from Buena Vista Social Club [CD, Elektra/Asylum 79478], was impressive not only for its expansiveness, but also its transparency. The Diablo cast a huge soundstage with this music, imaged instruments and singers precisely within that stage, and did all of this while delineating the fine details of the mix. In short, the Diablo expertly reproduced everything I listen for in music such as Latin jazz.
The Gryphon Diablo did give up some ground to its larger brothers and some of the best alternative solid-state equipment on the market. It couldn't cast a soundstage quite as dimensional as those of Gryphon's reference models. No surprise there -- the larger Gryphons seem able to sort out an even deeper level of fine detail without becoming strident or fatiguing, which they damn well should for the price. Nor could the Diablo compete with the big Halcros or Boulders when it came to silent backgrounds and nonexistent noise floors -- though I never felt that either of these intruded on music through the Diablo. Finally, the Diablo gave up that last word in neutrality that remains the hallmark of the Vitus Audio SS-101 integrated ($30,000).
But the Gryphon Diablo brought its own strengths to the table, strengths you might actually prefer over those of the behemoths: ease of presentation, textural purity, and -- of course -- price. Not to mention the fact that, from an operational standpoint, the Diablo is as good as anything out there. You'll just love operating it on a day-to-day basis.
Conclusion
As I unboxed the Diablo, I reminded myself that when someone has regular contact with cost-no-object audio equipment, as I do, it's easy to become spoiled. I wanted to be sure I didn't fall into the trap of relegating the Diablo to second class simply because it's not a flagship design.
I needn't have worried: The Diablo sounded just beautiful in my system, regardless of the fact that it costs "only" $14,999. It was also perfect in operation, with some unique features -- such as that wonderful touch-panel faceplate. All of this makes for an easy and hearty recommendation. It may or may not be built by wizards in some far-off land, but the Gryphon Diablo is a real product that any audiophile who seeks magic from his audio system should fully explore.
...Jeff Fritz
jeff@ultraaudio.com
Gryphon Audio Designs Diablo Integrated Amplifier
Price: $14,999 USD.
Warranty: Three years parts and labor.
Gryphon Audio Designs
Industrivej 9
8680 Ry
Denmark
Phone: (45) 86891200
Fax: (45) 86891277
E-mail: sales@gryphon-audio.dk
Website: www.gryphon-audio.dk

All contents copyright Schneider Publishing Inc., all rights reserved.
Any reproduction, without permission, is prohibited.
Ultra Audio is part of the SoundStage! Network.
A world of websites and publications for audio, video, music, and movie enthusiasts.